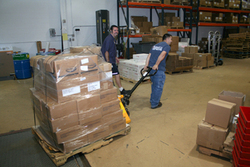 247Wholesale.com Offers some of the Cleanest Most Profitable wholesale Loads in the Business! If you're Not Buying from them, You're Not Making Money...!
Clifton, NJ (PRWEB) April 5, 2010
247wholesale.com, http://www.247wholesale.com , worldwide wholesale distributor and exporter of department store liquidation overstocks, store returns and closeout merchandise, is proud to announce the company is offering all first time customers $50.00 off their first order. The coupon covers all wholesale products, wholesale clothing and sneakers, jewelry, handbags, electronics, furniture, cosmetics -- any inventory in the 247wholesale.com catalog. To take advantage of the promotion, all first time customers need to do is enter coupon code 'New50.'
247wholesale.com is a primary source for wholesale suppliers, retailers, auctioneers, flea marketers, brokers and closeout dealers, offering liquidation, closeout, salvage, overstock, surplus and more at pennies on the wholesale dollar. 247wholesale.com offers some of the cleanest, most profitable loads in the business -- some of the best products at the best prices. 247wholesale.com carries a full line of branded wholesale clothing, sneakers, furniture, electronics, handbags, jewelry, domestics, general merchandise products and more from a variety of major department stores.
247wholesale.com is the ideal place for those looking to buy the latest name brand wholesale products at unbelievably low rates. The website is a real find. "We will do everything in our power to promote the success of our customers in this great business. We are in this for the long haul and maintaining a high number of loyal customers is our number one goal," says Christine Liquori of 247wholesale.com.
Many wholesalers offer similar products, however, the 247wholesale website has an amazing range of branded products at extremely low wholesale prices which they continuously update. Customers can gain access to some of the best deals available anywhere. "If money can't be made selling our products, then we're simply not doing our job," says Christine.
The 247wholesale.com product line ranges from clothing to sneakers, jewelry to handbags, gifts to household items, electronics to toys, computers to furniture and much more. The site offers some of the best wholesale prices online along with timely deliveries and prompt and courteous customer service, online chat and call back ticketing system.
247wholesale.com is one of the few liquidation businesses that has redefined the benefits and purpose of wholesale closeouts, overstocks and liquidation. "Especially in this tough financial world, buying brand name wholesale items is not just about buying authentic wholesale items, but is also about providing the utmost quality and affordability. 247wholesale does just that," says Christine.
247wholesale.com offers a wide range of liquidation items such as clothing, wholesale jewelry, sneakers, handbags and accessory items that are much better quality compared to other liquidation wholesalers in the market. For someone who is just about to start up a wholesale or retail business, 247wholesale is a great supplier to start with.
247wholesale is the perfect online wholesale liquidation web store with the newest and latest wholesale products. Check out the newest arrivals through their online showroom. The website also features a take-all section where consumers can save even more money and still use their $50.00 off first order coupon. If that isn't enough, most wholesale jewelry listed on the 247 wholesale website comes with free shipping within the U.S.
Every week, 247wholesale adds new products to its website, all the items needed to fit most any budget and every kind of season. The website is a great resource for ebayers, flea marketers, mom and pop shops, retail stores, and entrepreneurs alike. Anyone needing more information on a particular closeout item can contact http://www.247wholesale.com, or call 1-877-247-Wholesale (9465) and customer service will gladly answer any questions.
###