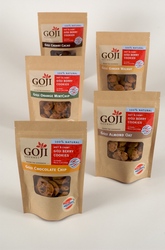 Low-calorie desserts always win big in our book, and four of these little cookies will edge off a sweet tooth better than any 100-calorie pack, Health.com
New York, NY (PRWEB) April 27, 2010
Move over acai, there's a new berry in town – and it has made its way into a scrumptious all-natural treat. Summer is just around the corner so look and feel great by pushing aside those over-sized sugary sweets and grab some of Goji Gourmet's mouth-watering goji berry cookies. These deliciously innovative new cookies are supercharged with the powerful antioxidants and nutrients of the Himalayan goji berry. Go ahead and kick off Summer with the healthiest berry on earth!
Goji Gourmet cookies are soft and chewy, preservative-free snacks that are low-calorie, low in sugar and high in antioxidants while tasting oh so berry, berry good! Five exotic cookie flavor combinations are loaded with antioxidant-rich Superfoods such as almonds, buckwheat honey (instead of refined sugar), cacao, cherries, cinnamon, ginger, goji berries, oats, turmeric and walnuts. With only 25 calories per cookie, this nutrient-dense, satisfying snack is a no-brainer.
Goji Gourmet cookies are sold in large bags (16 cookies) for $5.99 and small bags (eight cookies) for $3.99. A 4-cookie 100-calorie pack is also available for $1.99 at some stores and sold in sets of 16 online. Cookie flavors include:

Goji Almond Oat
Goji Cherry Cacao
Goji Chocolate Chip
Goji Ginger Walnut
Goji Orange MintChip
"After tasting goji berries and learning of their overwhelming nutrients, I immediately envisioned goji being the next acai berry," says Allison Jagtiani, CEO of Goji Gourmet. "I wanted to create a cookie that had the spectacular benefits of the goji berry with an international spin to incorporate all of the unique flavors I've experienced from traveling around the world," she added.
"Low-calorie desserts always win big in our book, and four of these little cookies will edge off a sweet tooth better than any 100-calorie pack," Health.com.
About Goji Berries:
Viewed as virtually a complete food, goji berries have been used for more than 6,000 years in Asia to protect the liver, help eyesight, improve sexual function and fertility, strengthen the legs, boost immune function and promote longevity. Goji berries have shown to have almost eight times the value of antioxidants in pomegranates and more than ten times the value of blueberries. The fruit is rich in vitamins A, C, & B-complex, along with iron, beta-carotene, selenium, germanium, and 18 amino acids.
Chief Epicurean Officer (CEO) Allison Jagtiani founded Goji Gourmet in June 2009. The Company is based in New York, NY and distributes nationwide. A list of the 43 current retailers can be found on the Goji Gourmet website: gojigourmet.com.
CONTACT:
info(at)gojigourmet(dot)com, +1-877-EAT-GOJI (328-4654)
High-resolution professional photography is available upon request.
# # #