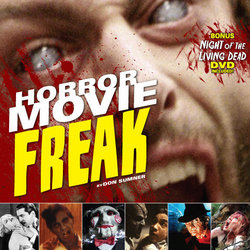 We immediately went to the Best-horror-movies.com fan base and asked them what films they wanted to see featured in 'Horror Movie Freak'
Manhattan Beach, CA (Vocus) April 1, 2010
Years in the making, 'Horror Movie Freak' explores what it takes to be just that…a horror movie freak. Topics include Rules of Survival in a Horror Movie, What Makes a Horror Movie Great, Ten Movies To Watch Leading Up to Halloween and a Beginner's Shelf to name a few. In addition, every horror film essential to becoming a horror movie freak discussed – from classics like Frankenstein, Psycho and Rosemary's Baby, to the recent Saw series and remakes such as Dawn of the Dead and Friday the 13th.
Why 'Horror Movie Freak'?
"I wanted to write the book 'Horror Movie Freak' for the same reason I started the website Best-horror-movies.com in 2006 – to give true horror fans what they really want," says Sumner, "As a horror movie freak myself, I was always disheartened by what I call the 'horror intelligentsia' - mainstream reviewers and film academics that pick on horror. Rather than regurgitate their point of view on the genre, I wanted to create a content-driven website where horror enthusiasts could read about what other horror enthusiasts thought, and eventually interact with each other via blogs, forums and chat rooms."
Little did Sumner know at the time this platform and subsequent user activity would quickly have Best-horror-movies.com generating over a million page views a month and would render him USA Today's 'expert on horror movie locales'. People everywhere were coming out of the woodwork, anxious to get in touch with their inner horror movie freak.
Now it was time for a book.
"We immediately went to the Best-horror-movies.com fan base and asked them what films they wanted to see featured in 'Horror Movie Freak'," remembers Sumner, "From there we realized the importance of including every subgenre of horror; for example one chapter's dedicated to remakes and reimaging. Other subgenres include classics, Asian horror, zombies, homicidal slashers, vampires, monsters, ghost stories and more. In short, we wanted to give horror fans a sort of road map, letting them know which films the horror community considers an essential part of the journey in becoming a horror movie freak."
In addition to Best-horror-movies.com fans, Sumner enrolled other experts in the horror industry – reviewers, filmmakers, actors and writers to give their input. The result is one of the best horror reference guides in history. With over 250 color illustrations, 'Horror Movie Freak' also includes a DVD of George A. Romero's 1968 original zombie movie masterpiece Night of the Living Dead with a special introduction by Don Sumner.
Pre-orders of 'Horror Movie Freak' are available now at Amazon.com. For further information, visit http://www.horrormoviefreak.com.
# # #