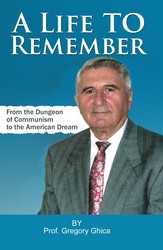 Paradise, CA (PRWEB) April 2, 2010
Professor Gregory Ghica tells the story of struggle growing up in communist Romania to his inspirational trek to becoming a professor in the United States in his new book, "A Life to Remember: From the dungeon of communism to the American Dream."
"While many books explore life with alcoholic and drug addicted parents, such as Frank McCourt's 'Angela's Ashes' and Louis Anderson's 'Dear Dad,' few stories have an account of making it in life without any family support. 'A Life to Remember' does just that – explores how early setbacks drove my desire to get where I am today," said Ghica.
Ghica's is a story of a fight for survival, under very difficult circumstances. It's also a story that can serve as an example and inspiration to the younger generation who are experiencing a life of hardship.
Losing his father at the age of 13 and raised by a tenacious mother until 18, Ghica found himself having to survive alone under a barbaric communist system, escaping after fifteen years of relentless attempts, transiting in various refugees camps in Europe and finally making it in United States all the way to the top of the teaching profession.
Ghica's narrative novel is written with heartfelt emotion in which moments of defeats and despair are intertwined with moments of success and enjoyment, making it an interesting read as well as provides an appreciation of courage and perseverance, history and life.
For more information and to purchase "A Life to Remember: From the dungeon of communism to the American Dream," visit http://www.lulu.com;Amazon.com; Barnes & Nobles.com
###