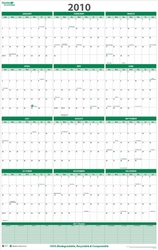 This new technology can eliminate millions of plastic planners from littering landfills.
Stoughton, MA (PRWEB) April 19, 2010
A Massachusetts company has developed a plant-based dry-erasable alternative to plastic for commonly used wall planners, calendars and whiteboards. Since the early '60s, dry-erasable products have always been made using polyester and polypropylene-based plastic films to create an erasable surface. Thinner dated wall planners are laminated both-sides eliminating recycling. Millions of plastic planners are purchased and disposed of yearly into landfills. PlanetSafe® Planners owned by Advanced Laminating, Inc. was seeking to develop a non-plastic alternative for laminated products when they came upon a type of plant based film which allowed markers to wipe off. This spawned the PlanetSafe Planner line which is now sold internationally. The PlanetSafe® products are 100% recyclable, biodegradable and can be composted. They contain no plastics or solvents and from what the manufacturer states uses 50% less energy to produce.
The company president, Ward Turner, had this to say, "We saw a great opportunity to move a product from plastic to plants while developing a line of organizational tools to help people. Our product is as good if not better in many cases when compared against plastic." Mr. Turner when on to add, "If you look at offices across the country they all have dated plastic calendars on their walls which get thrown into the trash year after year. Now people are tearing their calendar up and disposing of it in the recycled bin. We even developed the first 2-year calendar consumers get flip over use use twice as long."
Plastic to plants while not losing any functionality is not easy to accomplish but this product does it. PlanetSafe celebrates its "green theme" on all of its dated products by posting all the major and not so major earth-days including one I was unaware of. The third Friday in May is bike to work day, I'm going to write that down.
# # #