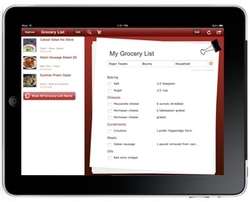 It's like having hundreds of instantly searchable cookbooks on your kitchen countertop.
Seattle, WA (PRWEB) April 3, 2010
BigOven.com (http://www.bigoven.com ), the social network that makes you a better cook, announces the immediate availability of BigOven 170,000+ Recipes and Grocery List for the Apple® iPad™.
"The BigOven community -- over 800,000 cooks strong -- is very excited about the iPad," said Steve Murch, CEO of BigOven.com. "The iPad's size and portability make it ideal for kitchen use. Having the equivalent of hundreds of cookbooks worth of recipes and tips right on the kitchen counter is incredibly powerful."
Designed from the ground-up for the iPad, this new BigOven app lets you look up virtually any recipe by title, keyword, or ingredient. It easily builds a grocery list from one or more recipes. It helps you get unstuck for dinner with great ideas, and shows you photos and ratings from real cooks. Together with http://www.bigoven.com, you can post your own recipes and photos online, and then have them easily available in a convenient application on your kitchen countertop.
Using BigOven's API, the app synchronizes with your iPhone and other mobile devices. This lets you make changes on your iPad to your grocery list, then get immediate access to these changes when you're in the grocery store, automatically. For instance, one member of the household could edit a grocery list on http://www.bigoven.com from their work computer, and these changes would show up within seconds on the iPad.
The BigOven app also keeps a running cooking log for you of everything you've made, giving you an easy way to refresh your memory weeks or months later. Together with the iPad's geolocation services, the app can even show you what other cooks are making right near you!
You'll see beautiful recipe photos on tens of thousands of recipes, get ratings from tens of thousands of users around the world, and can easily add your own. A unique "Leftovers" feature lets you quickly enter up to three ingredients from your fridge or pantry to find out what you can make. The 1,000+ entry BigOven Food Glossary gives you tips and history on more than 1,000 ingredients and cooking terms.
Users can post recipes and photos for free at http://www.bigoven.com, and then access them easily on their iPad or iPhone. BigOven's wildly popular iPhone application has been downloaded more than 2.5 million times since its release in October 2008, making it one of the most popular cooking applications in the iTunes Store. BigOven.com serves millions of unique users each month and recently welcomed its 800,000th registered member, and each day, more than 1,000 people sign up to swap recipes, build grocery lists, and chat about cooking.
Making the app possible is the powerful BigOven API (http://api.bigoven.com), the first REST-based API from a major cooking site, which is now in private beta for developers to create great new applications.
Available Today on iTunes
BigOven 170,000+ Recipes is available on the Apple iPad for $9.99, but is currently on a limited-time introductory sale for just $4.99. Simply visit the iTunes store and search for "BigOven".
About BigOven.com
BigOven.com is the social network that makes you a better cook. BigOven.com is free to join, at http://www.bigoven.com. The Seattle-based firm was founded in 2004 by Steve Murch, an executive from Microsoft, Expedia, and VacationSpot.com, BigOven.com now counts over 800,000 members from around the world and over 170,000 recipes, with hundreds of cooking videos, and thousands of cooking questions and answers.
###