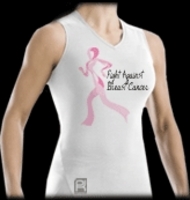 "I wore his initials on a piece of clothing during the race," said Shawna. "It was something that proved both meaningful to him and motivational for me."
Chicago, IL (PRWEB) April 1, 2010
In today's world, thousands of people walk or run for a cause. Many athletes partake in events in celebration of someone battling a fatal disease or in memory of someone who lost their fight. These participants have a desire to show their support. What better way to communicate their message than in the form of a performance shirt that they can wear at the event.
This is how Shawna Lavelle, owner of PKstrong, felt before running her first half marathon in 2006. She had just discovered that her stepfather, Pat Konewko, was diagnosed with throat cancer. This tragic discovery resulted in her desire to dedicate a piece of athletic apparel in honor of him.
"I wore his initials on a piece of clothing during the race," said Shawna. "It was something that proved both meaningful to him and motivational for me."
Despite her emotional support, Shawna's stepfather lost his battle with the disease. To keep his memory alive, PKstrong, LLC was formed and named in his honor. Shawna founded PKstrong to provide others with the opportunity to customize a piece of activewear in celebration of a loved one.
Participants of athletic and charity events can now easily carry-on the legacy of someone special or choose to support a personal cause, just like Shawna. Showcasing a name, photo or inspirational message on a piece of performance gear allows athletes to wear something meaningful while participating in an event.
On PKstrong.com, customers can create their own custom design using the fonts and artwork provided. Additionally, users can select from over twenty pre-made designs. With this choice, the customer can still easily personalize the item by choosing certain settings and typing in a name. All designs are printed on moisture-wicking material, keeping the user dry and comfortable. Furthermore, the fabric is odor, mildew and stain resistant.
Currently, PKstrong is in communication with national charities in order to provide donations on behalf of the customer. An upcoming news release will provide more information about donations.
To learn more about PKstrong, or to design your own performance apparel, visit PKstrong.com.
###