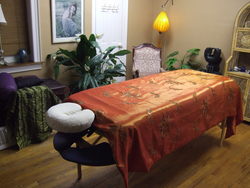 Coopersburg, PA (PRWEB) April 1, 2010
Always Pretty Salon and Spa is proud to announce a new service. The spa is now offering a unique massage modality called "Fusion Bamboo Massage." Visit the Web site.
Bamboo massage is a technique that utilizes bamboo stalks of varying lengths and diameters to provide deep-tissue work. These sticks are sometimes heated or used with essential oils. The massage itself promotes circulation, lymphatic drainage, stress relief and a deep sense of relaxation and well-being. An added benefit for the therapist is that using the bamboo sticks helps to reduce stress and strain on his/her hands and fingers while still allowing for deeply penetrating maneuvers.
Bamboo is a natural and replenishable source, making it earth-friendly. It is strong and smooth and creates a comforting heat when used on the body.
Always Pretty offers this massage by a therapist who has been especially trained in this modality. She incorporates traditional hands-on massage with the bamboo tools to give a comprehensive treatment. Feedback is encouraged during a client's first massage so that their individual needs and preferences are addressed.
Fusion Bamboo Massage needs to be experienced to know the depth of the mental, emotional and physical peace and relaxation that can be achieved. Regular massage is the smart healthy choice because it relieves the stress that leads to many illnesses and emotional depletion.
More about bamboo massage:
video
About our business:
Always Pretty Salon and Spa is a proud member of SOLEBO (Southern Lehigh Valley Chamber of Commerce) and has been thriving in the charming town of Coopersburg for 2 1/2 years. They offer hair and nail services plus a full menu of dayspa services. Permanent Makeup, eyelash perms, infrared hot rock massage, bamboo massage, reflexology and electrolysis are among their unique offerings. Enjoy the warm ambience of their restored Victorian. You can take a virtual tour and see their full menu on their website. http://www.alwayspretty.com.
Location: 32 S. Main St. Coopersburg, PA 18036
Phone: 610-282-1888
###