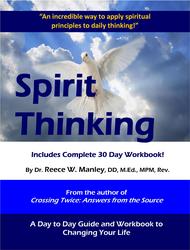 "It's so much more than self-help, it's self-esteem and self-discovery under the Creator's radically inclusive love."
Addison, TX (PRWEB) April 1, 2010
Spirit Thinking: Your 30 Day Guide and Workbook has debuted to great critical success. "We have never had a book win so many personal and association awards in such a short time frame," says Craig Williams, PhD, of Advocate USA Publishing. "Our first clue to the success of the book was its being selected as a Top 5 Books of February by Pacific Book Review. Then, Dr. Bernard Dolenz, MD, PhD, JD, a leading psychiatrists said the book was 'more inspiring than anything I've read this decade.'"
Spirit Thinking is based on a combination of proven cognitive psychology and ten specific spiritual principles. While cognitive psychology, more specifically, REBT therapy has been a staple of the self-help industry, adding spirituality as a prevailing component is a newer practice. Spirit Thinking takes it to one more level by using ten specific principles the author acquired through a very unusual circumstance.
"In 2008, while waging a five month battle with MRSA-Pneumonia, I died. That is, I had a medically verifiable death. However, the journey I took to find the radically loving and powerful acceptance which awaits us on the other side was beyond words," says author Reece W. Manley. Dr. Manley, which holds advanced degrees in counseling and post-doctoral work in human development adds, "Once you have an experience such as mine, you really do have to change the whole way you approach life."
Spirit Thinking: Your 30 Day Guide and Workbook includes a brief review of Dr. Manley's near death crossing, which was the subject of his first book, Crossing Twice: Answers from the Source. Once the background is laid, Spirit Thinking goes on to take its own flight with practical step-by-step actions for meeting the challenges of the world through the application of spirituality to the thinking process.
A review from the United Church of Christ's Cathedral of Hope reads "Dr. Manley's new spiritual movement, Spirit Thinking, marks his paramount achievement of becoming a spiritual leader and spirituality expert".
"I believe God loves us with a radical passion and acceptance. This is a very progressive book in its thinking serving many faiths equally well. Black, white, gay, straight, Jew or Hindi, Spirit Thinking is equally applicable to every faith, color, creed and orientation," says Reverend Dick Dinges, a senior UCC minister.
Dr. Manley also works as an online pastoral counselor and has opened up the online Certified Spirit Thinking Facilitator Academy to teach others to provide Spirit Thinking to readers who need a little extra help in applying the spiritual component. "It's a joy to have more potential clients than I can possible ever serve on my own. With Dr. Williams help, I've opened up the CSTF Academy to allow others to use the certification to help people."
Dr. Manley's books can be found on Amazon.com or BN.com. For an extra special touch of having an inscribed, autographed copy, visit the author's website
# # #