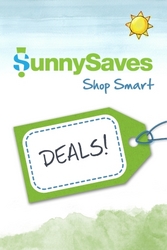 "SunnySaves.com is an easy way to save money on everything you buy," says Gray. "Why pay full price when you don't have to?"
Charleston, SC (PRWEB) April 1, 2010
Gray Works LLC announces the launch of SunnySaves.com, a Web-based business and social network offering daily deals, discounts, coupons and other special savings to its community of visitors.
The concept is based on owner Sunny Gray's personal philosophy that people want good quality at a great price -- all in one place. 
SunnySaves.com is an easy way to save money on everything you buy," says Gray. "Why pay full price when you don't have to?"
Visitors can search the site for national deals under 10 categories: "Food & Drink" for dinner deals; "Beauty & Fashion" for shoe sales; and "Kid Stuff" for discounted decor, for example. They can also find the best local deals in Charleston, SC, with more cities under development.
Plus, visitors can join the SunnySavers social network to share their favorite savings tips. "The SunnySavers component is like Facebook for people who want to rave about their best deals," says Gray.
And, businesses are encouraged to sign up. They can build lasting relationships with new and existing customers by joining and promoting their best offers, some exclusive to SunnySaves.com readers.
SunnySaves.com is modeled on the principle that people want to make good choices about shopping that will also promote environmental awareness, personal health and general well-being. In addition to shopping info, SunnySaves.com offers lifestyle tips on how to save money, save time and save the planet.
Sunny Gray has more than 14 years experience in publishing and advertising, and is the former co-owner of "The Little Black Book for every busy woman."  For further information about SunnySaves.com, contact Gray at Sunny (at) SunnySaves (dot) com.
###