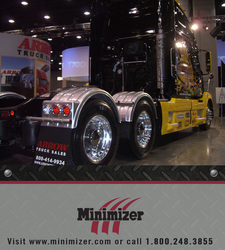 Blooming Prairie, MN (PRWEB) April 1, 2010
Minimizer exhibited at the Mid America Trucking Show held in Louisville, Kentucky March 25 - 27, 2010.
While at the show, Minimizer was proud to be a part of the Arrow Truck Sales "Back On The Road™ 2010" award ceremony. The ceremony was hosted by Dave Nemo, Sirius XM satellite radio personality, and Country Music Star, Aaron Tippin.
Robert Snyder of Dunnellon, Florida was selected as the Back On the Road 2010 driver. As the winner of Back On The Road, Snyder received a 2007 Volvo VNL 670, courtesy of Volvo Trucks North America, a one-year work agreement with Heartland Express and other products and services, including Minimizer liquid platium fenders and bracket kits.
Now in its third year, "Back On The RoadTM" is an initiative designed to benefit a deserving trucker in need of a truck and a job. Truckers from across the nation who have lost their truck, and their livelihood, through unfortunate circumstances beyond their control, can submit their story for consideration.
"We really enjoy being a part of this project," said Craig Kruckeberg, Minimizer's Chief Visionary. "Robert's daughter Savannah, who nominated him, was an inspiration for us all. She pulled the family together to help her dad and get him back on the road. It's our pleasure to help out."
Snyder has encountered economic challenges the past several years and owned a truck that was on its' last legs. His family was doing everything they could to keep food on the table and a roof over their heads. His daughter Savannah saw an ad for the award and nominated her father.
"My dad isn't like most fathers, husbands, or even like most guys who are going through hard times," said Savannah Snyder about her Back On The Road nomination. "He constantly puts everybody before himself. Money is tight and our family is struggling. I want the weight lifted off of my dad's shoulders; I want him to smile. Not those fake smiles. The smile we haven't seen in years."
"Winning Back On The Road is a dream come true," said Robert Snyder. "Driving is my life and I know receiving the 2007 Volvo VNL 670 from Volvo Trucks North America and job with Heartland will help me provide my family with the life they deserve. I am blessed to have this opportunity to represent Arrow Truck Sales and all of the great companies who have joined in this campaign."
For more information on "Back On The RoadTM 2010", please visit http://www.backontheroad2010.com.
To order Minimizer poly fenders find a distributor by clicking here. Minimizer poly fenders and related products are available through exclusive Minimizer distributors.
For more information or to contact a dealer, call us at (800) 248-3855 or visit our website or email us at info(at)minimizer(dot)com.
About Minimizer
Headquartered in Blooming Prairie, Minn., Minimizer manufactures semi truck fenders, poly toolboxes, customized mud flaps, and bracket kits. Family owned and operated for nearly three generations, Minimizer parent company Spray Control Systems, Inc., was founded in 1983. Minimizer aims to provide products tough enough to please tough people in a tough industry. For more information call (800) 248-3855 or visit http://www.minimizer.com/ .
###