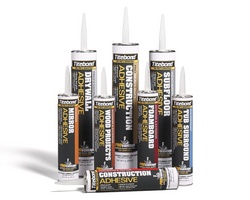 "With PROvantage, we can offer our customers the most comprehensive line of adhesives that provide them the performance they demand, along with the assurance that they are 100 percent VOC-compliant."
Columbus, OH (PRWEB) April 1, 2010
Franklin International, a pioneer in the development of high-performance, eco-friendly adhesives, now introduces Titebond® PROvantage™ Advanced Solvent Adhesives, an innovative line of eight solvent-based construction adhesives that meet the industry's most rigorous performance standards as well as the most stringent VOC regulations in the U.S. – and does so more cost-effectively than existing VOC-compliant, solvent-based adhesives.
PROvantage is the culmination of decades of development in proprietary technology and manufacturing processes at Franklin. What emerges is a landmark line of adhesives that offer all the valued performance characteristics of conventional solvent-based adhesives, such as fast-grab, application versatility and ability to extrude in low temperatures. At the same time, this new technology offers a critical advantage over other solvent-based adhesives: minimal VOC content of 50 g/L or less that enables professional contractors to meet VOC regulations anywhere in the U.S. – including districts within the state of California, where VOC regulations are most stringent. It also is compliant with LEED specifications.
Although contractors would expect to pay premium prices for a high-performance, VOC-compliant product, the unique technology and manufacturing processes behind PROvantage enable Franklin to offer the adhesives at a cost that is typically 10 percent lower than other VOC-compliant, solvent-based adhesive solutions. With PROvantage, contractors can have the level of performance they want in a VOC-compliant product, for less.
In addition to being able to use PROvantage products anywhere in the country, contractors can use them virtually anywhere on the job site, too. The PROvantage line launches with eight adhesives for primary construction applications: PROvantage Heavy Duty Construction Adhesive, PROvantage Subfloor Adhesive, PROvantage Drywall Adhesive, PROvantage Wood Projects Adhesive, PROvantage Foamboard Adhesive, PROvantage Tub Surround Adhesive, PROvantage Projects & Repair Adhesive and PROvantage Mirror Adhesive.
Not only is this the most comprehensive line of VOC-compliant solvent-based adhesives on the market, it also is the only one to include adhesives developed specifically to bond tub surrounds and foamboard as well as formulas for mirrors and wood.
"As a leader in both solvent-based and green adhesive technologies, we constantly strive to provide the best possible solution for the contractors we serve, focusing first and foremost on the superior level of performance they have come to expect from Titebond products," said Franklin's director of marketing, Craig Stone. "With PROvantage, we can offer our customers the most comprehensive line of adhesives that provide them the performance they demand, along with the assurance that they are 100 percent VOC-compliant."
Titebond PROvantage construction adhesives are available in 28-ounce cartridges; some also are available in 10-ounce cartridges. More information on PROvantage products and distributors is available on the Titebond website or through Franklin Technical Service at (800) 877-4583.
About Franklin International: Established in 1935, Franklin International is among the largest privately held manufacturers of adhesives and sealants in the U.S. The company employs approximately 400 at its headquarters, laboratory and plant, in Columbus, Ohio; eight distribution centers across the U.S.; and a new plant in Guangzhou, China. Franklin provides local support to customers domestically and globally through a network of 75 independent sales representatives and direct field sales associates. The company maintains two divisions: the Construction Division, which manufactures a complete line of Titebond® wood glues for cabinet shops and hobbyists as well as a full line of Titebond® adhesives and sealants for construction professionals and do-it-yourselfers who demand the professional touch; and Franklin Adhesives & Polymers, which provides adhesives to industrial wood-assembly plants and pressure sensitive adhesives to label manufacturers.
###