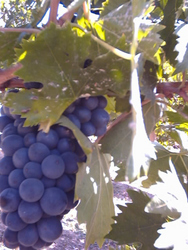 We are very happy to once again have a Super-Tuscan style Sangiovese on our tasting menu. In our opinion, the wine is even better then our 2006 medal winner.
Temecula, CA (PRWEB) April 1, 2010
Cougar Vineyard and Winery has determined that the long awaited award winning 2007 Sangio+ is ready to make its public appearance. As with all Cougar Temecula wine, Cougar releases fine wines when they are ready to amaze customer's taste buds in Cougars premier and fun Temecula wine tasting room.
Cougar Vineyard and Winery of Temecula Wine Country made the decision to library the 2007 Pinotagio and add to the wine tasting menu the 2007 Sangio +. The Sangio + is part of the nine wines currently available while Temecula wine tasting at Cougar.
Rick Buffington, owner and winemaker, said "We add Cabernet Sauvignon to the Sangiovese to increase the aging potential of our estate grown Temecula wine and to add more body. We're very happy with the result and the 2007 is definitely a fine example." The grapes in this wine are all grown on our Temecula winery property which allows more control over the quality of the grapes to produce better wines. The winery is offering $5 off the retail price of the Sangio + in the month of April to anyone mentioning this press release, where they read it and one other Italian grape varietal that Cougar produces.
Rick and Jennifer Buffington are the owners and winemakers of Cougar Vineyard and Winery located in the Temecula Valley Wine Country. This small boutique winery is a favorite stop for Temecula Wine Tasting. Next time you visit the Temecula wineries, check out Cougar Winery. The web address is http://www.CougarVineyards.com and phone number is (951) 491-0825.
###