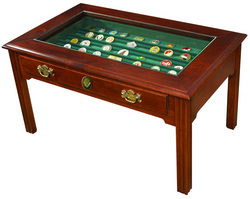 Challenge the world !!
Hickory, NC (PRWEB) April 1, 2010
Building upon their success in the area of curio tables and unique occasional furniture, United Displays of America is proud to introduce a new entry into their fine line of challenge coin tables. These tables constructed in polished, Pennsylvania cherry wood, will prominently bear the famous Masonic emblem.
In 2006 United Displays debuted their own brand of tables used to house challenge coins. Long used by the American military to both boost morale and to commemorate special moments in a service career, United Displays took their line of challenge coin tables and subsequently offered them to various fraternal organizations, clubs, service groups and historical collectors to display their own unique memorabilia. The company's newest offering bears the world famous Masonic emblem, which combines various stonemason tools with a sunburst—as a metaphor for the all-seeing eye of God. Prominently placed on the front, this commemorative medallion makes this piece of furniture one that should attract the immediate interest of proud fraternity members.
United Displays furniture is crafted with pride in the USA and is manufactured in Hanover, PA. All furnishings are crafted in solid cherry and available in two convenient and easy-to-ship sizes. The company also offers a wide line of tables to house American and historical flags, military medals and military ribbons as well.
For more information go to our website at: http://www.uniteddisplaysofamerica.com.
###