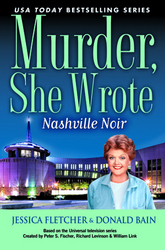 "To our knowledge no one has ever written a song for a book, but what could be more appropriate for Nashville?"
Nashville, TN (PRWEB) April 1, 2010
One of the most popular series in television history, "Murder, She Wrote" is no longer on the air in the U.S., but Jessica Fletcher lives on and solves the crime on the pages of "Murder, She Wrote" novels, each an original murder mystery. The latest in the 33-book series is NASHVILLE NOIR, and it has something unique—a song.
Donald Bain, who co-authors the books with the fictional Jessica Fletcher, spent a week in Nashville, TN, last year doing research and is returning in April for the debut of the publication. Award-winning country music songwriter David A. Stewart (he was the grand prize winner with Mary Beth Stone of the 2009 Country Music Television/NSAI Songwriting Contest) has written a song, "Nashville Noir," the lyrics for which open the story. Bain will have CDs of the song which he will be handing out at a Nashville book signing at Mysteries & More bookstore on Saturday, April 10th.
"To our knowledge no one has ever written a song for a book, but what could be more appropriate for Nashville?" asks Bain. "David has written a song that perfectly captures the essence of the book and adds his own special note to it."
NASHVILLE NOIR follows a young country songwriter, who comes to the country music capital of America with a heart full of hope and a backpack full of songs, only to become entangled in a murder. Jessica Fletcher, of course, solves the crime, and in the process brings in all the wonderful color and verve of this terrific city, commonly known as "Music City," while focusing on some fascinating locations that don't always get attention—like the model of a modern women's prison in Antioch.
Bain, author of over 100 books, has been writing the "Murder, She Wrote" series for 20 years. Every title is still in print and the books are distributed around the world. Visitors to http://www.donaldbain.com can learn more about NASHVILLE NOIR and other books by Donald Bain. Listeners can hear NASHVILLE NOIR, the song, at David A. Stewart's website.
The "Murder, She Wrote" series of original mystery novels is published by Obsidian, a division of NAL/Penguin. Over 4.5 million copies are in print. "Murder, She Wrote" is a trademark and copyright of Universal Studios.
# # #