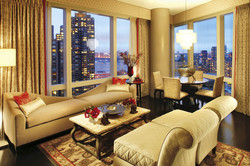 New York, NY (PRWEB) April 1, 2010
In celebration of the return of the fabulous foursome, Mandarin Oriental, New York will encore its Sex and the City Celebration package for the highly anticipated movie sequel premiering May 28, 2010. Once again, Sex and the City fans around the world can indulge their inner Carrie, Samantha, Miranda or Charlotte with a deliciously decadent bite of the Big Apple at Manhattan's favorite celebration destination hotel, Mandarin Oriental.
Guests booking the Sex and the City Celebration package will be off to a glamorous start as they check into a 5-Star room or suite with stunning views of the New York City skyline. During their stay, guests will enjoy a American Breakfast for two before hitting the city streets in style with a limousine-driven Sex and the City Hotspots tour, courtesy of On Location Tours. In-the-know On Location guides divulge behind-the-scenes stories from the HBO series and insider information about possible Manhattan locations in the upcoming movie. The tour showcases the show's classic locations, including Buddakan where Carrie and Big had their engagement party, one of the foursome's favorite brunch locations Pastis, and Samantha's exclusive social club SoHo House.
After a day of over-the-top glamour, guests will relax in Mandarin Oriental's see-and-be-seen Lobby Lounge with a complimentary round of specialty Sex and the City-themed cocktails including the Simply Mr. Big with a double shot of vodka on the rocks, olives and onions; the quintessential Carrie Cosmo, a mix of pink grapefruit vodka, ginger liqueur and cranberry and lime juice; the Clearly Charlotte made with gin, yellow chartreuse and a cucumber swirl; the Miranda Takes Manhattan, a traditional Manhattan with a quirky twist of blood orange bitters and orange essence; and the seductive Samantha's Forbidden Apple with Calvados, apple vodka, cinnamon schnapps and a dash of apple and POM juice. To make sure guests are completely up-to-date for the new movie sequel, the package also includes a complimentary DVD of the original Sex and the City movie.
The Sex and the City Celebration package is valid from May 1 – September 6, 2010. Rates begin at USD 1,850 plus taxes and additional nights of accommodation may be booked at prevailing rates. This package includes one night of accommodation with American Breakfast for two, a private On Location limousine tour for up to five people, the original Sex and the City movie on DVD and one round of Sex and the City-inspired cocktails in the hotel's Lobby Lounge. Rates do not include tax and service charges. Bookings must be made no less than a week prior to arrival date. This package is subject to availability. For reservations please call +1 (212) 805 8800 or toll-free +1 (866) 801 8880.
This package is not licensed by, sponsored by or authorized by, Warner Bros., New Line Cinema, HBO or any of its partners or affiliates.
About Mandarin Oriental, New York
A stunning fusion of modern design with stylish Oriental flair, Mandarin Oriental, New York features 248 elegant guestrooms and suites — all with breathtaking views of Manhattan and Five-Star hospitality. Luxurious amenities include Asiate, the hotel's elegant restaurant; MObar created by noted interior designer, Tony Chi; the Lobby Lounge with dramatic views of Central Park; a 14,500-square-foot, Five-Star Mandarin Oriental Spa; and a state-of-the-art fitness center with a 75-foot lap pool. In addition, there is premium meeting and event space, including a 6,000-square-foot pillar-less ballroom with three walls of windows overlooking Central Park. Located in Columbus Circle's Time Warner Center, Mandarin Oriental, New York is in an idyllic location just steps away from world-class dining, shopping and entertainment, including the Broadway Theater District, Lincoln Center, Central Park, Jazz at Lincoln Center and the Time Warner Center's collection of upscale retail shops and restaurants.
About On Locations Tours, Inc.
On Location Tours, Inc. is the largest TV and Movie locations tour company in the world. The aim of the company is to create tours that straddle fiction and reality, allowing tour guests to feel as though they are part of the TV show or movie. On Location Tours currently operates the New York TV and Movie Sites tour, the Sex and the City Hotspots tour, the Washington DC TV and Movie tour, the Central Park Movie Sites tour, the Sopranos Sites tour, and the New York TV and Movie tour on the Water.
Mandarin Oriental Hotel Group is the award-winning owner and operator of some of the world's most prestigious hotels, resorts and residences. Mandarin Oriental now operates, or has under development, 41 hotels representing over 10,000 rooms in 26 countries, with 17 hotels in Asia, 13 in The Americas and 11 in Europe, Middle East and North Africa. In addition, the Group operates, or has under development, 13 Residences at Mandarin Oriental, connected to the Group's properties.
Photography of Mandarin Oriental is available to download, in high and low resolution, in the Photo Library of our Media section, at http://www.mandarinoriental.com.
For further information, please contact:
Mandarin Oriental, New York
Communications Office
Tammy Peters (tpeters (at) mohg (dot) com)
Director of Communications
+1 (212) 805 8820
Jessica Seasholtz (jseasholtz (at) mohg (dot) com)
PR/E-Commerce Manager
+1 (212) 805 8849
http://www.mandarinoriental/newyork.com
###