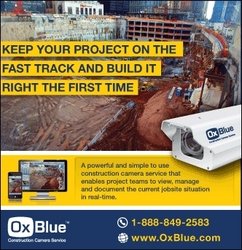 When you log in to Projectmates, you get a complete snapshot of everything related to that project including live high resolution jobsite photos from OxBlue construction cameras. This just takes visibility and project control to a new high!
Atlanta, GA (PRWEB) April 5, 2010
OxBlue, the leading provider of construction cameras, and Systemates today announced that they've partnered in order to integrate OxBlue webcams into Projectmates, the award-winning construction management software. Owners and project executives equipped with Projectmates will now have the added ability to be virtually present at any jobsite.
See the construction happen in real time with up-to-date progress pictures.
OxBlue's partnership with Projectmates allows stakeholders to see construction happen in real time, via up-to-date progress pictures. As a complete construction management software solution, OxBlue's partnership with Projectmates provides a powerful set of tools. Customers can manipulate everything from two-way bidding to construction workflow analysis, cost tracking to earned value. Projectmates' dashboard quickly alerts users to their tasks and due dates, missed and upcoming deadlines, as well as other vital information via user-friendly charts, graphs, and icons. "A picture is worth a thousand words," says Systemates Partner Hemant Bhave. "OxBlue webcams provide an additional level of transparency in construction management."
"OxBlue's presence is fantastic. Logging in to Projectmates, you get a complete snapshot of everything related to that project including live video-feed of the construction site via a hi-def webcam. The latest site picture is automatically pulled from the live webcams. Clients also love the link that opens the camera page showing the time-lapse movie of the project progress as well as the ability to overlay the pictures," says Bhave. "This just takes visibility and project control to a new high!"
The integration brings the best of construction management project software and construction cameras into one Web-based application accessible anytime from PC-based and mobile devices. "We've consistently heard from customers that they want to integrate the OxBlue construction cameras with their project management systems," says Chandler McCormack, owner of OxBlue. "So when customers who use Projectmates construction management software requested the technology be integrated to capture all project information seamlessly in one place, both OxBlue and Systemates were in favor of working together to make that a reality."
About Systemates, Inc. Systemates empowers over 25,000 users and many Fortune 500 companies to accomplish more, collaborate better, and save thousands of dollars throughout the lifespan of a building. Founded in 1995 by leading architects and software engineers, Systemates developed Projectmates to equip owners with a secure, sophisticated Web-based construction management solution. Projectmates' capabilities range from document management and scheduling to financial budgeting and change order management. Armed with over 40 modules and 200 reports for every type of construction project, owners save considerable time and increase accountability among all project participants. To learn more about Projectmates by Systemates visit http://www.projectmates.com or the Projectmates Blog.
About OxBlue, Inc.OxBlue is the leading construction camera service provider. OxBlue supplies owners and contractors with the hardware, connectivity and expertise to allow for anywhere-anytime access to their jobsite. OxBlue's exclusive focus on the needs of the construction industry, as demonstrated by their no contracts policy, guarantees pricing and lifetime warranty and ensures the highest levels of service and customer satisfaction. Founded in 2001 by construction technology professionals, OxBlue has become the nationally recognized leader in construction camera services. For more information visit http://www.OxBlue.com.
# # #