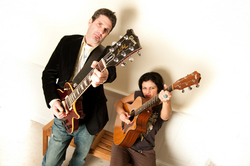 All my adult life I have searched for a way to pursue my dream of making a living as a musician, while living a life of contribution.The Half 4 Humanity Tour allows me a chance to do just that, live my dream and help others in the process."-Eric Levy
Philadelphia, PA (PRWEB) April 1, 2010
"Eric from Philly" and "Alia," two regionally popular singer/songwriters, come together for the Half 4 Humanity Tour beginning April 5, 2010. The tour will begin out of Delaware and continue throughout the next year across the country with fifty percent of the tour, CD sales and merchandise profits donated to Hurricane Katrina and Haiti relief efforts.
Inspired by the desire to pursue a musical career and support humanitarian efforts, the two singer songwriters are embarking on a charitable tour with the purpose of sharing their music with as many people as possible while using it as an opportunity to give back to those in need and strive toward their artistic aspirations.
"All my adult life I have searched for a way to pursue my dream of making a living as a musician, while also living a life of contribution. For the past 7 years, I have been involved with the Amazon Herb Co. with the mission of preserving the rainforests from deforestation and now I see a bigger opportunity to help other human beings in serious need. The Half 4 Humanity Tour allows me that chance to do just that, live my dream and help others in the process," says Eric Levy, singer and songwriter, "Eric from Philly."
Inspired by rock / blues/ folk legends such as Jeff Buckley, Tom Waits, Albert King, Howlin' Wolf, Bob Dylan and Ryan Adams, Eric and Alia play a range of original as well as popular contemporary cover songs and they are known for their passion, energy and originality. While this is their first tour together, both artists have been dedicated to donating their time and their talent to worthy causes including past performances at venues such as Indiefest, The Delaware Concert for Haiti and Homeslyce Soldiers – Benefit for the Homeless. While the tour is completely self supported by the two artists, the pair are currently seeking a corporate sponsorship to benefit the cause and support the tour.
"There are too many people who walk around waiting for the next person to change the world," says, Alia Ady, singer/ songwriter, "I can't wait around anymore and I can't do my part to change the world while sitting at my kitchen table. It's time to get up and get out and be someone who makes change happen."
"Eric from Philly" and "Alia" appear as a full band, an acoustic duo and as individual artists. The Half 4 Humanity Tour includes assorted venues from nightclubs, lounges, cafes and house concerts across the country and some well known stages such as the Mother in Law Lounge and Neutral Grounds in New Orleans, the North Star Bar in Philadelphia and the Laughing Goat in Boulder Colorado. The duo will kick off their tour at MOJO 13 located at 1706 Philadelphia Pike, Wilmington, De. Friday, April 2nd. The concert will feature a full band show, Eric and Alia, Eric from Philly, Rubber Skunk and Peace with Doubt. Cover charge is $5 or $8 after 9pm.
The complete Half 4 Humanity our schedule can be found at http://www.half4humanity.com.
"Eric from Philly" and "Alia" will emerge as one of rock music's most seminal acts, crafting highly literate, austerely luminous songs probing the mythology of the human experience. Listeners will find their music fused with the rural beauty of the blues and the spirit of rock 'n' roll forged in a uniquely evocative aesthetic. Their sound is rarely predictable, placing equal emphasis on craftsmanship and pushing the boundaries of their music and lyrics while preserving an acoustic tradition. The Half 4 Humanity tour merges the duo's gravely profound vocal work with uncorked rhythms to generate a fine collection of a mixture of musical genres at its finest.
About Eric from Philly:
Studying under John Kay from Bill Hailey and the Comets and other influential teachers along with a Bachelor of Arts and Sciences in Music and Marketing from Drexel University, Eric Levy emerged from the local music scene in performances throughout Philadelphia and the Tri-State Area as "Eric from Philly." Eric began playing guitar at age 11. Beginning with his first high school rock band, Vital Signs, Eric has played lead guitar with many groups over the years including: Medicine Men, Resin, Juliet's Wishing Well, Dr. Harmonica and Rockett 88. Eric's sound can be heard on all of these bands' recordings, including the radio-friendly, favorite local album, Juliet's Wishing Well's, Far from Winter. 'The Well,' as the band was known by its fans, performed regularly at many venues including The Lions Den and CBGB's in New York City, The Trocadero in Philadelphia and the Bottle & Cork in Dewey Beach. 'The Well' also opened for the Black Crowes at The Big Kahuna in Wilmington, DE.
Sought out for his ability to bring an eclectic, moody edge to an existing sound, Eric has done studio work for many local artists over the years. His musical styling can be found on the CDs of various local singer/songwriters such as John Torres' album, From the Curbside of a Small Town, Peace with Doubt's All Lit Up, and also on the compilation CD, Homeslyce Soldiers, to benefit the homeless by Aydin Say.
"Eric from Philly" released his debut album, All Over the Place in February of 2010. From the plugged-in sounds of hard and alternative rock to the unplugged classics of rhythm and blues and slide guitar, Eric's playing style crosses genres on purpose.
The album knits layers together Eric's personal expression and lyrics with nimble-fingered chord progressions and road-seasoned slide guitar collided with intricate violin, cello and mandolin embellishments that evokes spine tingling results. With standout tracks like "Gone again," "One of a Kind," "Perry County," and "Monterey," the music of "Eric from Philly" reveals a most exhilarating album. Music by "Eric from Philly" can be downloaded at digstation.com/ericfromphilly or cdbaby.com/cd/ericfromphilly. Sample tracks can be heard at ericfromphilly.com.
About Alia
At age 11 Alia picked up her first guitar and began combining her melodies and poetry with her instrument of choice. As a young teenager Alia was already an accomplished poet, her words are scattered in several publications worldwide. Today her lyrics are a testimony to her love for language conveying emotion. It was in attending Berklee College of Music in Boston, MA where she truly honed her skills.
Alia's music is hard hitting and hook laden, her talent for writing emotion is evident in her soulful lyrics. She is unique, yet connects to any audience who has known everything from war to heartbreak to the exhilaration of a first kiss. Alia has performed at prominent venues such as the Toronto Convention Center, Brandies University, Kent State University and Indiefest. She has performed with Jon Young from the band "Asia" and recorded a duet for a charity CD titled Beyond the Bridges released in 1999.
Alia's CD "Mess Like Me" released in 2006, features moving tracks such as "Sail On," "Trade in My Time," "Southern Rain," and "Mess Like Me." Alia's Music can be downloaded at myspace.com/aliamusic
###