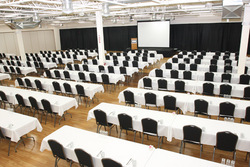 Rothschild, WI (Vocus) April 1, 2010
The Patriot Center is Wausau/Central Wisconsin's largest and newest event and conference center, offering 60,000 square feet of versatile space. The venue is located adjacent to the Cedar Creek Mall in Rothschild, just a few miles south of Wausau off exit 185 on I-39/Hwy 51. Due to its central location in the state, The Patriot Center has coined the term "meet in the middle" when working with event and meeting planners.
The 60,000 square foot facility breaks down into 17 different spaces, seating five to 4,000 people. The ballroom space accommodates over 1,000 guests, and the three expo areas can combine to offer over 26,000 square feet of exhibition space. The Patriot Center offers a full bar and concession area, large garage doors for easy set up and break down and a large, free parking lot. Planners are provided with unlimited pre-event consultation and customized rate proposals.
In addition to the versatility and size of the facility, another benefit of The Patriot Center is its connection to the Cedar Creek Mall. Attendees of events and conferences have access to national retail stores, a grocery store and even a movie theater, all without ever taking a step outside. Wausau/Central Wisconsin also has over 2,200 hotel rooms including six lodging properties, with a total of 575 rooms, within walking distance of The Patriot Center.
Trends
The Wausau Builder's Association's saw a 25% increase in vendors and a 20% increase in attendees after moving its event to The Patriot Center. Konquer the Kage, a regional mixed martial arts organization, had previously been unable to find a Wausau area venue large enough to hold its events. After booking with The Patriot Center, Konquer the Kage had twice the number of attendees as anticipated. Two more mixed martial arts events are now scheduled at The Patriot Center through 2010. Annual meetings and conferences around the state are moving to The Patriot Center for a more centralized location.
For more information, to see photos, view upcoming events or to submit an inquiry, visit The Patriot Center's website: http://www.thepatriotwausau.com or call Samantha Albrecht at 715-355-0011.
Contact Regan Pourchot at the Wausau/Central Wisconsin Convention & Visitors Bureau for information on all the meeting facilities in the Wausau area. http://www.visitwausau.com, 888-948-4748.
###