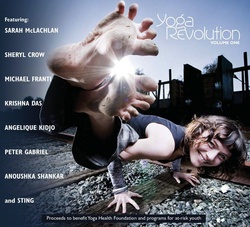 I'm excited to be part of this amazing compilation. - Michael Franti
Los Angeles, CA (PRWEB) April 1, 2010
Social entrepreneur and multi-platinum music producer, Frank Fitzpatrick, had one vision in mind when he began his latest project: to use the transformational power of music to inspire and encourage people of all ages and backgrounds to discover and experience the positive health benefits of yoga.
With that vision, he embarked on a groundbreaking project, bringing together music by icons Sting, Sheryl Crow, Sarah McLachlan and others to produce Yoga Revolution, an inspiring collection of music from today's popular artists combined with the soul-inspiring sounds of kirtan—a form of devotional music that is often associated with the practice of yoga. Taking the project one step further, Fitzpatrick partnered with the Yoga Health Foundation, a non-profit with a mission to promote preventive health care and inspire a healthy lifestyle. Net proceeds from the album will be donated to the foundation's health education and fitness programs for underserved elementary and middle school students around the country.
The critical need for these programs was emphasized last month, as Michelle Obama introduced the national "Let's Move" initiative, calling for action to increase health and prevention programs and combat childhood obesity. Yoga Health Foundations' Yoga Recess campaign brings unique solutions for reducing obesity and chronic illnesses by bringing mind body fitness programming into the classroom.
"Music, at its best, has the power to uplift, inspire and invoke change in us," said Fitzpatrick, who founded non-profit arts organization EarthTones, to raise social consciousness and connect people across the globe through the power of music and media. Yoga Revolution is Earthtones' first in a series of CDs produced to benefit the Yoga Health Foundation and support their shared mission of inspiring a balanced and healthy lifestyle.
Fitzpatrick's creative vision for Yoga Revolution merges music by Sarah McLachlan, Michael Franti, Ziggy Marley and Sheryl Crow, along with cross-cultural collaborations between Sting and Anoushka Shankar, Peter Gabriel and Angelique Kidjo and Seal and Guru Singh, while mixing in new material by rising kirtan stars Krishna Das, Deva Premal and Donna De Lory. The CD flows seamlessly through an inspiring and diverse 14-track mix ranging from Irish folk, a rock anthem and bilingual world music to 5,000 year old Vedic chants over hip hop beats, including a kirtan reworking of the Yardbirds 1965 hit: For Your Love. Reflecting on the CD, critically acclaimed artist Michael Franti says, "I practice yoga daily and I know how much music can inspire people. I'm excited to be part of this amazing compilation."
Yoga Revolution will be released through Time Life and Nettwerk's NuTone label on March 30th. For more information, please visit http://www.earthtones.org or http://www.yogarevolution.org.
About Frank Fitzpatrick
Frank Fitzpatrick, a multi-Platinum producer, Grammy-nominated songwriter and award winning filmmaker, is a leading voice in the use of music for personal and social transformation. Through his non-profit organization, EarthTones, Fitzpatrick has spearheaded many transformative projects, including "Be On Our Way" – a film-driven music download campaign supporting Brad Pitt's Make It Right Foundation's efforts to rebuild homes lost in Hurricane Katrina. Fitzpatrick has written and produced music for artists as varied as Jill Scott and The London Symphony, and for over two dozen feature films, including the recent "Soul Men" (Samuel Jackson) and "Hurricane Season" (Forest Whitaker). He is currently developing the documentary program, "Music: The Healer", featuring musical leaders from around the globe whose work has transformed and inspired entire cultures.
About Earthtones
EarthTones is a California 501c3 non-profit arts organization committed to raising social consciousness and connecting people across the globe through the power of music and media. It uses revenues generated from corporate sponsors, music sales and donations to develop multimedia projects with a positive intention to bring about social change. EarthTones also works to create partnerships with like-minded companies, organizations, filmmakers, recording artists and others that are working to connect and inspire people on a large scale.
For more information, please visit http://www.earthtones.org or Fitzpatrick's blog at http://www.FrankFitzpatrick.com.
###