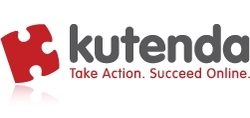 Broomfield, CO (PRWEB) April 5, 2010
Kutenda today launched a free program designed to accelerate online lead generation and sales for Colorado small businesses. Aptly titled the Local Accelerator, Kutenda's program promises to offer a complete Internet marketing makeover to one local business every month. The program combines fulfillment services with access to Internet marketing training and tools to get companies successfully marketing online in less than two weeks. Selected companies will receive over $9,000 in services at no cost.
"Most small businesses know they should be marketing their businesses on the Internet, but don't know what to do first or how to get started," said CEO Mike Cooch. "It's understandable; marketing online is often daunting when you're new to the Internet marketing world—That's why Kutenda is stepping in to provide the tools and services small businesses need to succeed online. Our Local Accelerator program is one piece of the puzzle that we've designed to give local small businesses a helping hand."
The Local Accelerator program includes all of the foundations for a comprehensive Internet marketing strategy that will drive leads and sales. Kutenda begins by creating a website or optimizing an existing website for lead generation and search engine rankings. Companies walk away with a list of campaigns, content and the tools, training and support to pick up where Kutenda's fulfillment process ends.
Specifics include:

Promotional landing pages with automated response emails
A prospect-focused email marketing campaign designed to convert
Customizable email templates
A search advertising pay-per-click campaign
Live local search listing
Optimized keyword list for specific products / services
A knowledge base of Internet marketing best practices
According to new projections from Outsell, Inc., digital/online marketing will overtake print in 2010. Companies are projected to spend $119.6 billion on online and digital strategies. For small businesses, marketing online is a known challenge due to the intense learning curve, budgetary constrictions and the lack of available software. Kutenda has set out to change that with it's Internet marketing toolset for small businesses and the Local Accelerator program is making the extra leap locally by offering tools, services and training for free.
In order to qualify, companies must be based in Colorado. Kutenda is accepting submissions at http://kutenda.com/accelerator.html via a short form. Each monthly winner will be contacted directly by Kutenda's director of training. Kutenda does allow companies to resubmit monthly for another chance to win.
About Kutenda
Kutenda provides small businesses with the tools and education to effectively market online. Combining all the secrets big companies pay big money for, Kutenda offers a powerful Internet marketing toolset built specifically to help small and midsized businesses harness the power of the Internet to generate leads, drive sales and increase revenue.
Contact information:
Ginevra Figg
Marketing Manager
646-262-5978
###