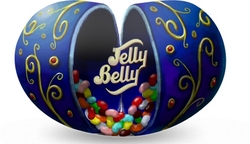 If you printed each Graffiti jelly bean entry on a normal piece of paper and taped them end to end, they would reach higher than Mount Everest. A lot higher.
San Francisco, CA (PRWEB) April 2, 2010
What do 52,795 Jelly Belly jelly beans and 9,044 BMWs have in common? Not only are they all superbly aerodynamic, they were all drawn by Facebook users as part of two wildly successful ad campaigns run by the popular Facebook application, Graffiti.
In the Jelly Belly campaign, Facebook Graffiti users drew on a jelly bean template to create their own jelly bean. Users then voted to determine the Top 150 designs, from which the judges will pick the winners. In last year's BMW campaign (see winners here), Graffiti users were given a BMW outline and asked to draw on the car and the background.
The jelly bean Graffiti contest marks Jelly Belly's foray into social media. The contest is taking place on Jelly Belly's new Facebook Page as well as being heavily promoted by the Graffiti application. Users are prompted to post a Facebook newsfeed when they finish drawing their entry.
Within 10 days of launch, the Jelly Belly contest managed to attract 52,795 entries. Users then cast hundreds of thousands of votes in order to determine the top 150 designs, all of whom will receive a free bag of Jelly Belly jelly beans. The judges will select the winners from the top 150 results. The first place prize is $500, a Jelly Belly gift box, and a large print of the winning entry.
While the Jelly Belly campaign has been Graffiti's largest campaign to date, the BMW campaign last year, with over 9,000 entries, was also considered a major success. According to Dave Morin, then Senior Platform Manager at Facebook, "BMW is running a campaign on Facebook which could be one of the most brilliant social media campaigns I've seen in a long time." In "The Best and Worst of Social Network Marketing," Forrester researched social network campaigns by 16 major firms and pronounced the BMW Graffiti campaign the winner. All 15 of the other campaigns failed by Forrester's metrics. The BMW Graffiti campaign was also featured in the New York Times and won both the 2009 Silver Effie Award and the Silver MIXX Social Marketing award.
Although the Jelly Belly and BMW campaigns are the only two Graffiti campaigns to make use of a template on which the users draw, Graffiti has also run more than two dozen other campaigns and competitions for major brands, including Dell, Intel, Microsoft, HP, Haagen-Dazs, Paramount, Jones Soda, Comcast, Kohler, Wacom (2008 ad:tech Best Social Media Marketing Campaign), Mini, ASUS, Sling Media, Universal Pictures, IBM, Sony Pictures, and Discover.
About Graffiti
Graffiti was launched in May 2007 by founders Mark Kantor, Tim Suzman, and Ted Suzman. Graffiti grew explosively and remains one of the most popular applications on Facebook, with over 5,000,000 monthly active users. The application provides a way for users to communicate with each other using a simple drawing interface. Graffiti has over 1,000,000 fans and has a higher user rating than any Top 100 Facebook application. The application has been translated into 10 languages.
http://facebook.com/graffitiwall
contact: Mark Kantor
###