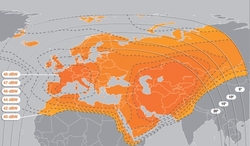 Satellite Internet provides a lifeline to home for servicemen in Afghanistan & Iraq
(PRWEB) April 2, 2010
UK based Satellite Broadband provider Bentley Walker, have this week announced major improvements in Satellite Internet coverage of the Middle-east and Europe as a result of continued investment in state of the art technology.
Demand in internet via satellite systems has soared in recent years, as people expect fast and reliable access to the internet even outside of the areas covered by more familiar solutions. This is particularly true in Afghanistan and Iraq where coalition military personnel and western contractors expect the services they receive at home despite the remote locations that they serve in.
This weeks announcement by Bentley Walker will see greater capacity and availability of service to customers in such areas.
In technical terms Bentley Walker have added a 6th Hughes HX hub on Eutelsats W7 Eurasion beam. In practical terms this means greater capacity and availability of service for Satellite Internet users throughout Europe and Middle-east Asia.
The Eurasian beam has two areas of focus where signal is strongest, one targeted on southern Europe and the other on the Caspian Sea area providing essential coverage in the high-demand areas of Iraq, Afghanistan and neighbouring states. Total coverage however extends as far West as Iceland across most of Russia to the east and Yemen to the South, capturing most of Europe and North Africa.
The announcement is particularly good news for servicemen in Afghanistan and Iraq. Satellite Internet access provides thousands of military personnel with a vital link with home wherever they may find themselves posted. One problem facing Satellite Internet users in Afghanistan in particular is signals getting blocked by features such as mountain ranges. This ensures a better quality of Afghanistan internet for servicemen and women.
The improvements resulting from this new hub will remove this problem for many by allowing dishes to point more skywards,avoiding such obstacles and ensuring top performance in the most difficult areas.
# # #