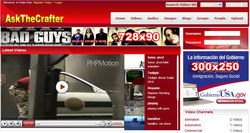 Askthecrafter takes the concept of arts and crafts online to an entirely new level
(PRWEB) April 1, 2010
Askthecrafter.com, a revolutionary video sharing web site is online and open for business. The first web site to take the concept of crafting online to an entirely new level, Askthecrafter.com has bridged the gap between the static mediums of simple pictures to a video sharing community.
Many of the websites on the web that are dedicated to craftsmen and artists focus solely on sharing images of projects in order to communicate and demonstrate the passion they have for their creations. Askthecrafter.com has taken it to new heights by launching a video sharing web site that focuses on clips artisans create demonstrating professionals' arts and crafts. Videos can be uploaded, downloaded, embedded or shared with friends across the web. Individual artisans can even create their own third party video site themselves to share with clients, friends, and others with similar interest by embedding their videos from Askthecrafter.com to their web site and blogs.
The concept of community is paramount on Askthecrafter.com, and everyone is free to watch the videos. Registered users can favorite a video, comment on individual clips, or ask for more information if needed. In addition, if users wish to share articles relating to their craft or individual photos, they have that option as well.
As the community behind Askthecrafter.com grows, so will the exposure to the crafter's work. All artists and crafters can share their passion and their knowledge on this innovative video sharing web site, and allow others to learn and grow from their expertise.
Askthecrafter.com is created and managed by Orientaltouch Co., an online marketing company. Founded in 2006, Orientaltouch focuses on web sites that offer unique products and services. For more information with regards to Askthecrafter.com, please visit http://www.askthecrafter.com
###