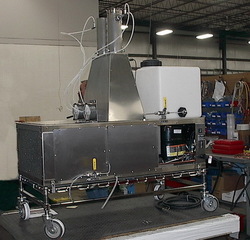 Syracuse, NY (PRWEB) April 5, 2010
Air Innovations, Inc. (AI) announces the completion of several projects requiring the company's expertise designing and building custom environmental control units (ECUs). Two ECUs were shipped to two different pharmaceutical packaging firms that had demanding air conditioning specifications, said AI President and CEO Michael Wetzel, P.E. One was a returning customer that needed precisely controlled conditions to provide an exact level of uniform drying, for fluid bed dryers used by the manufacturer to coat capsules, pills and caplets. The ECU supplying air to the process tools was required to have the ability to either add or remove humidity to maintain a 50 degrees F dew point level, Wetzel explained.
The second pharmaceutical company required a single packaged system containing both humidification and a cooling system, plus a desiccant dryer, for blister pack packaging machine. The company requested broad flexibility in environmental control in anticipation of future requirements in the industry. The multiple device system AI designed can provide either a very dry or a very humid environment on demand.
University research labs continue to specify AI's ECUs, Wetzel noted. To expand its research infrastructure in the field of nanophotonics, one institution specified a three-cubed, water-cooled system (each cube 26" x 30") with a dry-steam humidification, for an electron beam lithography tool. The tool will be used to support the research program led by one of the university's top scientists. The other university ordered an ECU for a 425 sq.ft. cleanroom laboratory that will be adjacent to the school's existing scanning electronic microscope and photolithography rooms. The project includes the construction of a cleanroom enclosure with two rooms; one a Class 100 and the other a Class 1000 clean room.
A cleanroom being upgraded for a specialty contract lens manufacturer will receive two, 15-ton vertical environmental control units to replace the original AI system that has been successfully operating 24/7 since 1988. The manufacturer also owns two other older model AI ECUs and will eventually replace them with the updated versions, Wetzel said.
About Air Innovations
Established in 1986, Air Innovations designs, tests and manufactures specialized air conditioning and environmental control systems for a wide variety of specialty market applications, from aerospace to homeland security. The company has built 15,000 systems to date in its 40,000-square-foot, state-of-the-art facility in Syracuse, New York. Air Innovations' brands include: Floratech® (refrigerated floral display cases for supermarkets and mass market customers); CleanroomSystems® (custom-designed environmental control systems/air conditioning units for cleanrooms and other critical environments sold under the trade names HEPAir® and AdvancAir®); Wine Guardian®(wine cooling systems for environmental control of residential and commercial wine cellars); IsolationAir® (portable contamination control unit for healthcare facilities and emergency preparedness); and, HEPAiRx® (ventilating room air purifier). For more information about Air Innovations, visit http://www.AirInnovations.com or call 800-825-3268 (international: 315-452-7400).
###