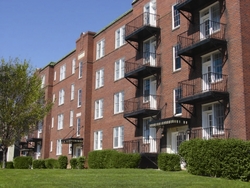 "Preserving the historic aspect of The Wilmont was important to us." Zachary Taylor Sr
Raleigh, NC (PRWEB) April 1, 2010
Extensive renovations have restored the beauty and style of the 1920s along with upscale amenities to the Wilmont apartments.
Described as a "part of Raleigh's history", The Wilmont fell into disrepair over the last few years. After nine months of renovations, The Wilmont apartment building has been transformed into stylish living spaces artfully blending the old with the new.
The building was purchased in June, 2009 by The Wilmont, LLC and renovations began in July. The members of the group include Zachary Sr. and Linda Taylor, Nikita Zhitov and Zachary Taylor. All members were eager to bring life back to this iconic building. Zachary Taylor, Sr., one of the investors of Wilmont Apartments LLC, said "Preserving the historic aspect of The Wilmont was important to us." Working closely with the State Historic Preservation Office, great care was given to honor the vintage architecture and style of the building. Zachary indicated that now that the renovation is complete, application will be made for the Raleigh Historic Landmark designation.
The Wilmont was built around 1926 and has 24 one and two bedroom apartments. The exact date of the construction is unknown. Original details such as crystal door knobs, stained glass accents and original hardwood floors preserve the ambiance and style of a past era; however, today's lifestyle is enhanced by contemporary kitchens and bathrooms with new appliances and amenities.
One of the outstanding features of these apartments is the very large windows which bring so much light into the rooms and which highlight the beautiful original hardwood floors. The floors which were in poor condition have been totally refinished and run throughout the apartment with the exception of the bathroom.
The two rooms that were fully updated are the bathroom and the kitchen. The bathroom was stripped down to the bare walls. Since people in the 1920s only bathed, showers were added after the original construction. The water lines to the shower heads were pieced together in a zigzag fashion. New plumbing and new bathroom windows were necessary. Oil rubbed fixtures with a vintage flair were used to enhance the style of the 1920s. Ceramic tile floors and shower wall complete the update. The designer kitchen includes granite countertops, all new cabinetry and oil rubbed fixtures. The 2 bedroom apartment homes also have a large pantry, and the window and glass-paned door in the kitchen allow for plenty of light and air flow.
The Wilmont has served the community of Raleigh since the 1920s. With the recent renovations, this historic building will once again provide homes for the people of Raleigh who relish the unique environment of a historic building but enjoy the amenities of today's life style.
Leasing began in February of 2010. Details and photos are available on The Wilmont website.
Follow us on The Wilmont fan page.
###