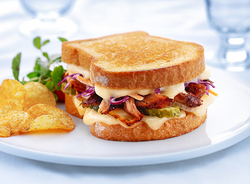 Madison, WI (PRWEB) April 1, 2010
This April, the Wisconsin Milk Marketing Board launches the Wisconsin Grilled Cheese Academy microsite. The site features 30 delectable grilled cheese sandwich recipes with stunning photography. With nearly 30 different cheeses featured on the site, along with numerous bread and filling options, there are endless possibilities for turning the traditional sandwich favorite into updated versions sure to appeal.
Celebrate the launch of the Grilled Cheese Academy with a Twitter Party on April 15. Log on and follow #grilledcheese to learn great grilled cheese tips and win fantastic prizes.
FACTS

Twenty-six percent of U.S. households serve grilled cheese sandwiches at least once in a two-week period. (The NPD Group, Inc.)
Lunch is the most popular meal for a grilled cheese – 55 percent are consumed during this meal. (The NPD Group, Inc.)
American cheese is the most popular cheese chosen for a grilled cheese sandwich. Cheddar and Swiss take second and third places, respectively. (Mintel's Menu Insights)
Americans make 2.2 billion grilled cheese sandwiches at home each year. (Slash Food)
TIPS

Add extra flavor with unique, store-bought condiments such as fig jam, pesto and olive tapenade.
For traditional grilled cheese, butter the bread with soft butter. Soft butter spreads easiest and will be more evenly distributed which ensures a properly crisp sandwich.
Apply a little pressure when cooking. Gently press the sandwich with a spatula after it's been flipped to help create an even spread of cheese.
Be patient. Don't grill over high heat—the bread will brown (or burn) too fast and the cheese will not be melted. Grill over low heat.
FEATURED SANDWICHES

The Biloxi—a dinner plate-worthy grilled cheese of Wisconsin Fontina, Pulled BBQ Pork, Creamy Coleslaw and Sliced Pickles and Onions on Buttermilk White Bread.
The Appleton—a sweet sandwich of Wisconsin Cheddar, Apples and Salted Caramel Sauce on Brioche.
The Flatiron—a sweet and savory breakfast sandwich suitable for any time of day, smothered with Wisconsin Brie, crispy bacon and a fried egg on French toast.
The Lil' Kahuna—a sweet-spicy flavor of the islands with Wisconsin Pepper Jack, Ham, Pineapple, Sautéed Bell Peppers and Sautéed Onions on King's Hawaiian Bread.
# # #