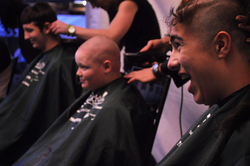 Each year, we set out to beat our own goals while ensuring that participants have a great time
Atlanta, GA (Vocus) April 1, 2010
Every year, Fadó Irish Pub is synonymous with St. Patrick's Day festivities and thousands of party goers enjoying seemingly endless food, drink and music. What people may not know is that each year, a few days prior to March 17, Fadó Pubs across the country are also host to St Baldrick's charity events which have been quietly raising money and awareness to fight childhood cancer for 11 years. This year, Fadó proudly announces that a total of 9 pubs and 700 participants raised over $620,000 dollars. The largest single amount raised by one company in St. Baldrick's history.
"Each year, we set out to beat our own goals while ensuring that participants have a great time", says Kieran McGill, CEO and owner of Fadó Pubs Inc. "I am very pleased to see the hard work and enthusiasm from our staff pay off and have this kind of impact in our communities."
The planning starts months in advance as participants begin to spread the word with the hopes of beating the goal set the previous year. The entire community is involved and challenged to rise to the occasion. From local barbers and hair salons donating their time and equipment to pub regulars & staff donating cash and, of course, shaving their heads. The end result is a fun afternoon in an Irish bar shared with friends that impacts the community and, most importantly, the lives of children battling cancer.
In a time where people have less and less to give, Fadó Irish Pub and St Baldrick's Foundation have found a formula that works. To learn more on how you can participate next year, contact your local at http://www.fadoirishpub.com or go to http://www.stbaldricks.org.
St. Baldrick's Foundation
The St. Baldrick's concept was born on St. Patrick's Day in 1999 as the result of three friends who wanted to find a way to give back to society. Nice years later, events have taken place in 18 countries, 48 states and over $50 million has been raised thanks to more than 72,000 men and women willing to shave their heads. The mission of the St. Baldricks Foundation is to raise awareness and funds to cure kid's cancer by supporting cancer research and fellowships. Learn more at http://www.StBaldricks.org
Fadó Irish Pub & Restaurant
Fadó Irish Pub & Restaurant is an Irish Pub distinguished by its genuine Irish hospitality, quality and craic (Gaelic for good times). Fadó was formed by three Irish and Irish American entrepreneurs and opened in Atlanta in January 1996. Currently, you can enjoy traditional Irish food, perfect pints and a bit o' craic in 12 different cities around the country including Atlanta, Annapolis, Austin ,Chicago, Columbus, Dallas, Denver, Philadelphia, Stamford, St Louis, and Seattle.
###