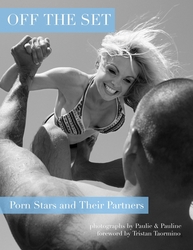 The stars are shown with their lovers and true loves... wherever Paulie & Pauline saw a moment between real-life lovers that came from the heart. And in the resulting photos, these moments are tangible.
New York, NY (PRWEB) April 2, 2010
"Off the Set: Porn Stars and Their Partners" is a new hardbound book by photographer duo Paulie & Pauline that documents the off-screen romantic relationships of ten couples who work in porn, including Jesse Jane, Kylie Ireland, Seymore Butts, and Tera Patrick. In addition to more than 100 photos, the book features essays on the realities of relationships for performers written by the stars themselves, and a foreword written by sex educator Tristan Taormino. Published by Aural Pink Press, Off the Set is available right now on Amazon.com, Barnesandnoble.com, and in select bookstores.
Writing for the San Francisco Chronicle, Violet Blue says that "the stars are shown with their lovers and true loves, in their homes, in bed, fully dressed out on romantic dates, at the corner cafe, wherever Paulie & Pauline saw a moment between real-life lovers that came from the heart. And in the resulting photos, these moments are tangible." According to Penthouse Magazine, Off the Set "treats porn seriously, and its stars shine when given the chance to exhibit all of themselves, not just the naughty bits." Groundbreaking documentary photographer Barbara Nitke describes Off the Set as "a playful, insider's view of porn stars in a way they are never seen. Paulie & Pauline have given us a glimpse into the everyday, shockingly normal sex lives of these hardcore stars who look like they could be your next door neighbors."
Photographers Paulie & Pauline explain that they embarked on this project because, in spite of recent dialogue regarding the "pornification" of America, porn stars remain a group of people who are consistently pushed to the margins of society. The pair spent five years behind the scenes of the adult entertainment industry to create this unique look at the private lives of ten stars and their significant others, including:
Digital Playground contract star Jesse Jane
Seymore Butts and Mari Possa, stars of the Showtime hit series Family Business
Adult industry veteran performer Kylie Ireland and award-winning director Eli Cross
XRCO Female Performer of the Year and cancer survivor Nicki Hunter
AVN Transsexual Performer of the Year Buck Angel
Feminist porn sensation Madison Young and Kink.com's James Mogul
What they discovered was not a collection of people whose work as performers reduced them to damaged victims. Instead, they found a group of acutely self-aware individuals who, along with their partners, embrace their choices to work in porn, and thrive on their romantic relationships. The photos in Off the Set balance intimacy and the ordinary to capture the beauty of the genuine bonds shared by these couples, and to reveal their humanity.
A portion of the sale price of each book is being donated to the Adult Industry Medical Healthcare Foundation (AIM), a non-profit corporation founded in 1998 to care for the physical and emotional needs of people who work in the adult entertainment industry.
Hardcover: 120 pages
Publisher: Aural Pink Press, LLC; First edition (April 2, 2010)
Language: English
ISBN-10: 0615338631
ISBN-13: 978-0615338637
About the Author/Artists.
In their portrait work, erotic, and documentary photography, Paulie & Pauline seek out uniquely candid moments in the human experience with a curiosity that is heavily influenced by their backgrounds in journalism and sociology. Mostly, though, their photos reflect their voyeuristic fascination with people and their stories. Photos from Off the Set have been published in print and online, appeared in several group exhibitions, and are in the permanent collections of the Museum of Sex in New York City and the art gallery at the Kinsey Institute for Research in Sex, Gender, and Reproduction.
Tristan Taormino is an award-winning author, columnist, editor, sex educator, and feminist pornographer. She is the author of six books, including True Lust: Adventures in Sex, Porn and Perversion and The Ultimate Guide to Anal Sex for Women. She runs her own adult film production company, Smart Ass Productions, and has been an exclusive director for Vivid Entertainment since 2006. She wrote the popular syndicated sex column Pucker Up for The Village Voice for almost ten years.
More information about Off the Set and Paulie & Pauline can be found at paulieandpauline.com
Contact Information:
Paul Sarkis
Phone: 201-936-8167
Web: paulieandpauline.com
On Twitter: @pauliepauline
###