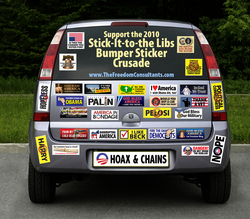 "People are scared and upset. The devious Democrats have gone too far. We are being ignored and mocked by our elected representatives and that has to stop because our constitution is now hanging by a very thin thread."
Saint George, UT (PRWEB) April 28, 2010
Their bumper sticker of the month says it all. It reads "A STACK OF ONE TRILLION ONE-DOLLAR BILLS WOULD REACH 67,860 MILES HIGH!" while another declares " I LOVE AMERICA, MY SMALL TOWN, MY GUNS, MY RELIGION, MY PICKUP TRUCK, THE TEA PARTY MOVEMENT, AND SARAH PALIN."
Searching the web site, TheFreedomConsultants.com, viewers find over 300 other pro-conservative, pro-tea party messages emblazoned on the company's line of stickers, T-shirts, ball caps and postcards. Also, with a couple of clicks, the site will send a personal message from the viewer to President Barak Obama or a member of Congress that spells out their imminent expulsion from office.
The firm's graphic offerings oppose the Democrats' radical agenda, and proclaim personal responsibility, faith in God and other traditional American values. "The bumper stickers bear clear messages to inspire others to publicly stand up for the conservative, common-sense ideas that made us free and have kept us free," said Steven Woodfield, president of The Freedom Consultants and staunch supporter of the nationwide tea party campaigns.
"The devious Democrats have gone too far. They have crossed the line. People are pretty scared and upset," said Woodfield, "Unless you have a 10,000 hit-a-day blog or a radio show or some other public megaphone, it feels like you're not being heard. We are being ignored and mocked by our elected representatives and that has to stop because our constitution is now hanging by a very thin thread."
Viewers can send a hilarious letter to a "double-dealing Democrat" that mocks the liberal agenda. Included with the letter is a surprise gift. Addressed to the President or a Member of Congress, the letter explains the reason for the enclosed item, a bumper sticker that reads "Fire the Democrats", "Thumbs Down on Obama" or some other blatant message. The sender can pick from twelve different stickers as their gift..
The letter reads in part:
"I bought this bumper sticker as a special gift just for you. It was designed behind closed doors to make it more appealing to you and your Democrat associates. I had to bribe a lot of people to get it to you. Stick it on your limo for a time and you will discover its hidden features. It will give the sly impression that you are finally in tune with the majority of Americans and that you love your country. It could even change some people's low opinions of you, but that may be expecting a little too much."
The letter and sticker are mailed by the store directly to the designated Democrat. The offer is featured in a humorous video and can be seen on YouTube.
"Most every survey taken tells us that at least 40 percent of the voters in this country hold to the conservative traditions of our founding fathers as opposed to 25% liberals who do not. The others are independents. We're trying to stop the damage to the constitution and our freedoms by galvanizing the conservatives and independents," he said. "An affiliate network has been organized to magnify the effort. Tea party supporters are invited to participate if they are looking to make some extra money. People can go to our website and get the whole story."
Another feature of the website is free "God Bless America" bumper stickers that are available with a minimum purchase of items from the Boston Tea Party Store. A portion of all proceeds is donated by the company to conservative causes which are dedicated to preserving the constitution.
Woodfield says some people are amused when he talks about his bumper stickers helping to save the constitution. His response is that the average bumper sticker will be seen by some 40-50 persons a day. "One hundred million vehicles are owned by conservative voters. If just a small percentage of them display a conservative sticker, the cause is advanced by tens of millions of impressions every day. That's our goal." he says.
###