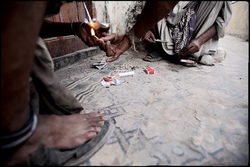 I have been working with the United Nations in Afghanistan and Kabul, taking pictures and covering stories; everyday in the morning I saw addicts who were lying on the ground, dead.
Seattle, WA (PRWEB) April 1, 2010
AllTreatment conducted a phone interview with Nasim Fekrat of AfghanLord.org about the dire situation of heroin addicts within Afghanistan and specifically Kabul. Nasim has been blogging about Afghanistan since 2004, exposing the often horrific events that take place within his home country.
In 2002, there were nine drug rehabilitation centers within Afghanistan; today there are forty. In the United States, there are 13,688 treatment centers, serving over 1.1 million patients, approximately 0.3% of our population. In Afghanistan, it is estimated there are over 1.5 million addicts, roughly 5% of its total population.
Nasim tells the story of the growing use of heroin and opium within Afghanistan: how families give opium to their children to work longer hours, how Afghani villages' exile addicts, how even their livestock is becoming addicted to these drugs, and what needs to be done to change this horrifying trend.
To learn more about this health crisis, read Nasim's interview about the situation of heroin addicts in Afghanistan and Kabul. If you are willing, please donate any amount of money you can to help combat heroin abuse in Afghanistan.
About AllTreatment.com:
AllTreatment.com is a drug rehab center directory and substance abuse information resource, providing its users with the highest level of treatment recommendation services in the United States. AllTreatment is dedicated to enabling individuals suffering from drug and alcohol addiction to contact treatment professionals who can help them begin the rehabilitation and recovery process with confidence. For more information about drug rehabilitation treatment, visit http://www.alltreatment.com
###