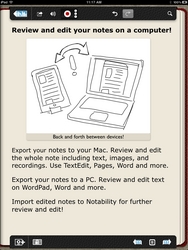 Palo Alto, CA (PRWEB) April 2, 2010
"Thanks for listening to and acting on customer requests. The BEST note taking app our there. Great job!" - Notability user
Notability is the best note taking app for capturing ideas and information. It works great in class or in business meetings. Use it as a journal or for doing interviews, research and more. Boost your productivity today with Notability's powerful features and easy-to-use interface.
The latest update of Notability includes some of the most user-requested features!
TAKE MORE USEFUL NOTES
Select fonts, colors, styles and sizes. Create outlines using bullets and numbers with multiple sub-lists. Add photos, figures and web clips. Enhance these with annotations, figures and simple hand writing. Capture audio that is automatically linked to your notes. Keep recording while using other apps on iPad!
STAY ORGANIZED & SAFE
Easily organize notes into subject category in the library. Find notes via text search. Batch upload notes in multiple formats to Dropbox, iDisk or a WebDAV server. Back up notes with iTunes File Sharing.
EDIT ON A COMPUTER
Send notes to your computer for further review and edit. Return them to Notability on iPad whenever you're ready. Or, start notes on your computer and continue them in Notability.
Create notes on your computer that include iTunes U lectures, music or other audio files. Open these notes in Notability, take notes, be happy.
OTHER COOL FEATURES
Review your notes by subject with no distractions (like the keyboard).
Use external keyboards. Print your notes on Airprint wireless printers.
See a few of Notability's unique features in the screen shots below.
For more information check us out on the AppStore.
We're constantly improving Notability and we love to hear what our customers think. Email us at ideas(at)gingerlabs(dot)com.
The Notability App for iPad is on sale for $2.99 from the App Store on iPad or at http://www.itunes.com/appstore/.
About Ginger Labs
Ginger Labs develops software applications to improve daily life. soundAMP improves hearing and converts iPhone or iPod touch into advanced hearing devices. Notability improves learning abilities and converts iPad into an advanced note taking and learning device. Ginger Labs was founded in 2008. The company is headquartered in Palo Alto, California.
###