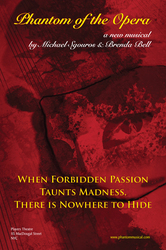 On Broadway you are one of two thousand people, at the Players you're one of two hundred
New York, NY (PRWEB) April 1, 2010
The first English translation of Gaston Leroux's astounding novel The Phantom of the Opera was published in 1911, and since then it has provoked writers around the world to retell the story and to probe the mysterious man behind the mask. The latest creative team intrigued by the Phantom is Michael Sgouros (composer) and Brenda Bell (book and lyrics), whose new musical opens at the Players Theatre in the West Village on April 30th.
When asked how a petite production in the Village would compare to the Broadway version of Phantom, Ms. Bell replied that "Both versions are based on the novel by Gaston Leroux and feature many of the same characters, but the Players Theatre production focuses on the authentic story as Leroux relayed it in his novel and explores the passionate and personal relationships between those characters in greater detail. Most people have only a vague idea of the true story and that's what audiences will see at our production, so expect a few surprises." Bell recently visited Paris to retrace Leroux's step from the novel – her journey was recorded in her blog: Chasing Phantoms.
The Players Theatre, revamped to under 200 seats to accommodate the viewable pit, offers audience members an intimate experience not possible in a large Broadway house. "On Broadway you are one of two thousand people, at the Players you're one of two hundred," commented Mr. Sgouros. The size of the house also contributes to the authenticity of the sound. No amplification -- a subject that has raised much controversy in the theater world -- is used in the production. The music is played live, in full view of the audience, allowing the acoustic sounds to be heard as they were meant to be without interference or adjustment.
The Players Theatre production, set in 1911, features Gaston Leroux as the narrator. As the curtain opens, Leroux has just completed his novel The Phantom of the Opera and invites the audience to join him as the story unfolds in his mind and on the stage. A cast of fourteen actors supports the storytelling as the play seamlessly revolves through artistic scenic impressions designed by Lex Liang. Each week a guest choir is featured, lending a full-bodied punctuation to the musical's climatic first and second acts. The production is directed by the playwright, Brenda Bell, working alongside choreographer, Stefanie Smith,
"Phantom of the Opera" by Sgouros and Bell begins previews on April 9th and opens at the Players Theatre located at 115 MacDougal Street (between Bleecker and West 3rd) on April 30th for an open-ended run. Performances are Thursday – Saturday evenings at 7:30p and Thursday and Sunday matinees at 3p. Tickets range from $45-65 and can be purchased through Theatremania: https://www.ovationtix.com/trs/pr/680235 or by calling 212-352-3101 or 1-866-811-4111. Tickets may also be purchased at the box office which opens at 11a daily.
###