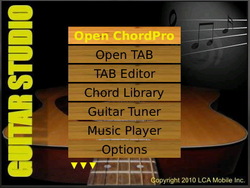 With a 30,000+ Chord Library, Guitar Tuner and support for Tab and Chordpro music files, Guitar Studio is a great tool for beginners and experienced Guitar Players.
(PRWEB) April 15, 2010
LCAmobile, a Mobile Application Software Developer has launched a new mobile App for BlackBerry SmartPhones called "Guitar Studio". This feature rich Mobile Application allows Guitar Enthusiasts to take their music with them, so they can enjoy playing and creating music while on the go.
Guitar Studio is easy to use and has features that both beginners and advanced Guitar Players will enjoy. The App supports unlimited Tab and Chordpro music files and reduces paper waste by eliminating the need to print out songs. Players can transfer existing tab songs to Guitar Studio from their Computer, or use a Web Browser to search online for new songs. Once the music files are on the device they simply appear as selections in the song library.
The App has a hands free scrolling feature that automatically advances the music displayed at a rate that is set by the user to match their playing skill. Need to look up a chord in a song? Simply highlight the chord and view it instantly in the 30,000+ Chord Library that displays numerous chord variations and fingerings.
Guitar Studio also features the ability to view Tabular music as a single seamless horizontal line that scrolls automatically across the screen. Tabs can also be displayed while listening to the audio version of the song using the built in music player.
When it comes time for learning a new song, Guitar Studio not only shows you how to play the chords, it also allows the user to setup up loops by marking start and end points within a Tab and audio file for synchronized repeated practice of song sections.
Other features include a tone based Guitar tuner, MP3 player, Audio Recorder and the ability to compose music on the go using a built in Tab and Lyric/Chord editor.
A fully functional trial of Guitar Studio is available for immediate download at http://www.LCAmobile.com or BlackBerry App World and the application is available for purchase at LCAmobile.com, BlackBerry App World and Mobihand.com
###