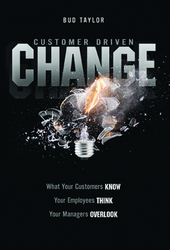 It all boils down to customers -- without them you don't have business.
Dallas, TX (Vocus) April 5, 2010
Consumer industry expert Bud Taylor of Dallas, Texas and Canada wins the prestigious 2010 Axiom Business Book Award for Customer Driven Change: What Your Customers Know, Your Employees Think, Your Managers Overlook (Brown Books). Recognized as an exemplary business book, Taylor says it all boils down to customers - without them you don't have business.
Midwest Book Review notes, "Customer Driven Change is a realist's business book targeted to managers and leaders. It is about business and change, a necessary practice to keep up with today's hectic business world."
Emphasizing the value of employees, Taylor offers his opinion on many problems ranging from acquiring competitors to downsizing. He introduces the concept of a VIP cycle, which stands for Vision-Innovation-Precision. Each of these components describes a particular type of person that is essential in the change process, as well as describing a certain stage of the changes process.
Throughout the book, Taylor provides practical tips for uncovering what needs to change in an organization. He teaches organizations how to make effective company-wide changes based on the relationship they have with their customers (making change from the outside, where the customers are, to the inside, where the employees are).
Overall, Taylor's message is that change and customer - two words that are not often used together, should be considered in conjunction with one another. Change must be driven by customers if it is to stick. Internally driven change results in disaster -- just ask Toyota.
Customer Driven Change is available online and at bookstores everywhere. For more information visit: http://www.customerdrivenchange.com
# # #