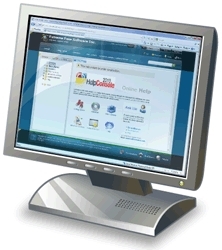 Vancouver, BC (PRWEB) April 1, 2010
Extreme Ease Software Inc., announced the immediate availability of a completely redesigned and significantly improved HelpConsole 2010. Technical writers have the ability to host all product documentation on one central web server enabling design and maintenance of help systems from any office using a standard browser.
HelpConsole represents the next step in the evolution of user assistance. In addition to formats such as web-help and PDF, HelpConsole provides the unique ability to publish 'dynamic help' systems that can be uploaded to an existing website, allowing authors to quickly add content and make changes from anywhere in the world using a standard web-browser.
"We've revolutionized help authoring software by providing the ability to host dynamic help systems on a local or remote web server", says James Dean, President of Extreme Ease Software. "Developers and authors can update product documentation from anywhere using a standard web browser. HelpConsole was designed to be used with little or no training required. Many of our customers have told us that they've tried other Help Authoring solutions and found HelpConsole to be the most advanced, yet easy to use. We've built upon our previous success and have released a more feature-rich product that will suit the world market."
HelpConsole 2010 includes a comprehensive list of new features including:

Improved Interface
Track reader activity
Full Translation to any Language
Improved Search Engine
Publish PDF Manual from Sub-section
Customizable Reports
Improved Skin Editor
Dynamic Tag Properties
Format Code Blocks (HTML, XML, CSS, C#, VB, Javascript, etc.)
Import MS Word documents, HTML pages and Robohelp Projects
"We've empowered technical writers, help authors and web developers to maintain product help systems and PDF manuals right from their website using a standard browser." says Andrea Logeman, Marketing Director. "We recognize the dynamic of the global market and to support that demand we have offered a comprehensive interface which is now fully translatable to any language. We'll continue to listen to customers and customize HelpConsole to suit their needs."
PRICING AND AVAILABILITY
HelpConsole 2010 is affordably priced for as little as US$99.00 for immediate purchase today from ExtremeEase Software at http://www.extremeease.com/Purchase.htm. A 30-day evaluation can be downloaded from: http://www.extremeease.com/Download.htm. Upgrades from HelpConsole 2008 are priced at 50% of the retail price.
About Extreme Ease Software:
Extreme Ease Software Inc. is a privately held corporation based in Vancouver, Canada, specializing in the development of web-based help authoring tools. The company's products allow software developers and organizations to easily generate distributable web help systems and help centers for their company website. To learn more, go to: http://www.ExtremeEase.com.
###