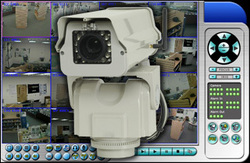 ...we were able to greatly reduce the cost and make a product that was a lot more affordable and customizable.
Norcross, GA (PRWEB) April 1, 2010
One of this month's best innovations in the video surveillance market comes from Atlanta-based security e-tailer PolarisUSA.com, who made headlines last month with their new System Builder tool. Taking a swing at the big name brands that have typically dominated the IP surveillance market, PolarisUSA has released a new line of custom-built network PTZ (pan/tilt/zoom) security cameras with a melange of features such as 27X optical zoom, mechanical day/night, and optional infrared and wireless capabilities. While the technical specifications may not read as innovative, where PolarisUSA has truly raised the bar is in the price tag, which sits at less than half that of similarly spec'd competitive products.
Although the price will surely turn some heads, it will not detract entirely from the attention garnered by the formidable aesthetic of these cameras that is sure to be a crime deterrent on its own. A rugged box housing mounted to a solid pan/tilt motor and aluminum arm come together to form an intimidating package that looks as though it might at any moment leap off the wall in order to beat senseless an unlucky villain caught in its roving eye.
Under this robotic sentry's bonnet resides a high resolution color camera with a powerful 27x optical and 16x digital zoom. The camera boasts a dizzying array of features such as auto gain control, automatic white balance, back light compensation, customizable titling and a mechanical infrared cutoff filter. These and other features can be easily modified using the camera's on-screen menu which can be accessed remotely. An optional infrared board allows the camera to see in total darkness, and an optional wireless module will allow the camera to connect to your 802.11b/g network.
A built-in web server provides an unobtrusive interface for the camera that can be accessed through a web browser from anywhere in the world. Also included in the package is central management software which allows the viewing and recording of up to hundreds of cameras in this product line from any location. Standard NVR (network video recorder) functions such as motion detection and event recording make this a viable solution for a wide range of applications. To add to this robust offering, PolarisUSA.com is also offering a line of 4, 8 and 16 channel network DVRs for analog cameras that can be used in concert with the IP cameras for a truly hybrid solution.
When asked to comment, PolarisUSA's principal engineer Frank Wheeler stated, "We were frequently receiving requests for wireless outdoor infrared IP cameras with PTZ capabilities, but many customers would be shocked at the price tag. By purchasing bulk components and building the units ourselves we were able to greatly reduce the cost and make a product that was a lot more affordable and customizable."
In this "Silicon Age" the flow of exciting new technologies is unremitting. Each month brings new offerings from purveyors of the novel. Though the consumer pallet is insatiable, our bearish economy has consumer purse strings knotted shut – keeping much of this high technology out of reach for the modest spenders. It is therefore refreshing for a company to extend an effort to bring forth new products that satisfy the high technical demands of the market while remaining vigilant to the amplified budgetary constraints of todays businesses and consumers.
# # #