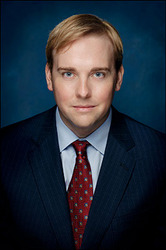 Dallas, TX (PRWEB) April 1, 2010
Mitch Dean, a partner at Dallas-based Dean & Dugger PLLC, has been named to the list of 2010 Texas Rising Stars, which recognizes the top young lawyers in Texas. Mr. Dean was previously honored as a Rising Star in 2007, 2008, and 2009.
Texas Rising Stars selections are based on nominations from fellow attorneys who have previously been selected as Texas Super Lawyers. Eligibility is limited to those attorneys under the age of 40 and those who have been practicing law for less than 10 years. Only 2.5 percent of eligible Texas attorneys received this honor. A complete list of all 2010 Texas Rising Stars will be featured in the April 2010 issue of Texas Monthly.
"We're very proud that Mitch has been recognized in this way" said R. Keith Dugger, managing partner of Dean & Dugger PLLC. "He has committed himself to representing the interests of health care providers and institutions for nearly a decade and I think all who know his work would agree that he is very deserving of this honor."
Mr. Dean devotes his practice to operational, regulatory and transactional health law matters. He regularly advises clients on a variety of health law issues including: anti-fraud and abuse laws, HIPAA, EMTALA, Medicare/Medicaid, licensure and certification, managed care contracting, and joint venture planning and implementation. He has worked in both in-house and outside counsel capacities, and currently represents a wide range of health care clients, including both publicly-traded and tax-exempt hospitals, physician entities, and health care related businesses.
Dean & Dugger PLLC is a boutique law firm with a unique approach to counseling clients in the areas of operational, regulatory and transactional health law. Founded in 2007, the firm has quickly grown to five lawyers representing a wide variety of health care clients including individual providers as well as prominent national and regional health care organizations. To learn more, please visit: http://www.dean-dugger.com
###