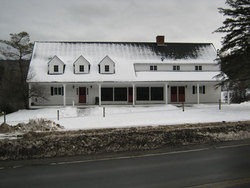 If you can't make it to visit us, you can always click on our website or give us a call
Waitsfield, VT (Vocus) April 1, 2010
Houseneeds.com, the nation's leading seller of energy-efficient, environmentally friendly home heating, cooling and plumbing products, has announced that they will be moving this June to a new Showroom/Corporate Office Center at the former Waits Farm Motor Inn. The new showroom will be located at 4805 Main Street, right in the heart of downtown Waitsfield.
The Waits Farm Motor Inn, a staple on Route 100 for years, will be converted into a new 800 to 1200 square foot Showroom and Houseneeds.com will also moving their corporate offices there from it's current location at 167 Mad River Canoe Park Road. 2 new apartments will also be created by the renovations, bringing some much needed rental options to downtown Waitsfield. By closing their Waterbury store, Houseneeds has brought two full-time employment positions back to Waitsfield and with the economy improving, Houseneeds expects to create another three to four new positions by the end of the year.
Houseneeds.com plans on opening their new showroom to the public on June 15th. In the meantime, a temporary showroom has been set up at their current office and warehouse location at 167 Mad River Canoe Road. All of their energy saving products such as Solar Hot water Systems, Radiant Pex Heat Systems, Tankless Water Heaters, Wood and Wood Pellet Stoves, Whole House Fans, High Efficiency Boilers, and Solar Lights and Fans will be on display.
"If you can't make it to visit us, you can always click on our website or give us a call", said Gary Johannesen, CTO and Director of Sales for Houseneeds. "Our new location provides us with incredible exposure and allows us to showcase our products in ways that we have not been able to in past. This is a great opportunity for us, but also for all the homeowners in the Mad River Valley to make their homes smarter, warmer and better."
About Houseneeds.com:
Houseneeds.com was created in 1999 in the heart of Vermont's Mad River Valley. Houseneeds.com has made it their mission to bring the best in energy efficient environmentally friendly products from all over the world to homeowners across North America. Houseneeds.com offers Common Sense Heating, Cooling and Green Energy Solutions with a level of friendly expertise that cannot be rivaled anywhere. Contact us at 866-Heat-123 or visit our website 24 hours a day at Houseneeds.com
Contact
Gary Johannesen
Head of Sales
Houseneeds.com
802-583-5523
http://www.Houseneeds.com
About the Author
Joshua Meyer is a freelance journalist based in Burlington, VT. He received a Bachelor of Liberal Arts from Goddard College in Plainfield, VT in 2000. His focus is on Energy efficient Heating products and Green Technology. Mr. Meyer is currently at work on a children's book that helps explain the current energy and environmental concerns we face today.
###