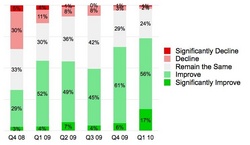 73% of the residential construction and real estate companies responding predicted near-term improvement or significant improvement, and only 3% predicted decline.
Atlanta, GA (PRWEB) April 2, 2010
While the larger residential construction and real estate market still struggles to gain a footing, the devastating downturn has brought out the best in many companies. The challenging environment has pushed some of the industry's most nimble and aggressive businesses to reinvent their products, sales processes, and marketing strategies to respond to the dramatic change in conditions, and many of the persevering companies are finally seeing results.
More than 100 of GuildQuality's home builders, remodelers, and contractors shared their most optimistic forecast since GuildQuality began surveying it's confidence among its membership in late 2008. Responding to the question, "relative to the previous six months, what kind of change do you expect in your company's performance over the next six months?", 73% of companies predicted improvement or significant improvement, and only 3% predicted decline.
Most of the success strategies quoted by builders and remodelers revolved around a renewed focus on the customer experience, relentless cost control, and high-touch sales and marketing efforts. Representative strategies included dozens of comments like "staying in touch with our circle of influence and continuing to provide a great experience to our clients."
While the significant majority forecasted improvement, survival is still a daily struggle for many. One builder commented, "Survival is our most pressing short term issue. With the crash in the market and reduced volume, we did not cut back fast enough and are now heavily in debt and do not have the cash flow to make payments on the interest. Reducing debt or filing for bankruptcy protection is a must in order to continue in business."
Whether optimistic or pessimistic, many of the comments included an air of concern for the peers that have not been able to hold on: "These are the toughest times I have ever seen in 35-plus years... I pity the people that are just starting their businesses. Without a 35-year customer base we would not have survived."
A summary of their feedback and a complete list of all the predictions and strategies provided by GuildQuality's builders, remodelers, contractors, and real estate developers is available at the GuildQuality blog.
GuildQuality's membership includes more than 500 residential real estate and construction companies who dedicate their businesses to delivering exceptional customer service. As a group, the companies that participated in the Market Predictions and Strategies Survey enjoy an average customer recommendation rate of more than 90% -- about 20% higher than the average builder or remodeler. While not necessarily representative of the building or remodeling business, these Guildmembers are representative of the types of residential construction and real estate companies that are leading the battered industry through the downturn.
# # #