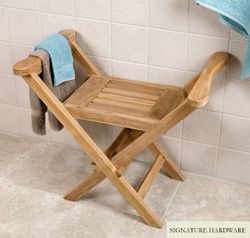 Teak wood items are naturally water resistant, making them ideal for wet locations, both indoors and outdoors.
Erlanger, Kentucky (PRWEB) April 2, 2010
Signature Hardware now carries teak wood items that are naturally water resistant, making them ideal for wet locations, both indoors and outdoors.
A teak shower seat or a teak wood bath mat adds comfort and safety when used in a wet or damp environment. The slightly textured teak wood prevents slipping when wet, yet feels smooth against bare skin, and the smooth sanded surfaces of the teak wood bath mats are non-splintering and grip the feet. Natural coloring and water resistance make the mats perfect for a shower or bathtub entry, or with an outdoor shower. The freestanding folding teak shower seats fold for convenient storage or to easily carry for indoor and outdoor use. A teak wall-mounted shower seat provides a stable place to rest and relax while creating a spa-like atmosphere in any bathroom.
Organization is easy with a teak shower caddy. These bath caddies store tall shampoo and body wash bottles while adding warmth to the lavatory or sauna. Customers can choose a hanging shower caddy for the ultimate space saver, or a freestanding bathroom caddy perfect for stand-up showers.
Create an outdoor oasis with teak wood benches and seats. The natural wood seating will provide years of lasting enjoyment when used as seating near a hot tub, pool, beach or lake. If you have an outdoor shower near your pool or recreational area, a teak wood shower mat is a practical, yet beautiful addition to your yard.
These teak products are made of natural, honey-colored, unsealed teak wood. If used outdoors it will weather to a silver-gray. For customers who wish to maintain or restore the teak's natural color, Signature Hardware offers environmentally friendly TeakGuard products. Using TeakGuard is a non-toxic, biodegradable way to keep an outdoor shower mat and teak bench looking new.
All of the teak products are in stock and ship within two business days. These items and more can be seen online or in the company's free catalog. Customers are invited to order a free catalog online or by calling customer service toll free at 1-866-855-2284.
About Signature Hardware
Signature Hardware is a direct merchant of antique-style reproduction fixtures for the home. Working directly with the factory and selling direct to the end consumer, they are able to provide superior service and exceptional value. The firm distributes its products nationwide, and sells direct to the consumer by the use of print catalogs, their retail showroom located in the Cincinnati area, and over the web.
Contact Information
Celia Arthur
Signature Hardware
866-855-2284, Ext. 161
(High-resolution images available; interviews granted upon request.)
###