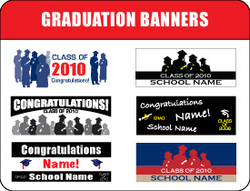 Glendale, California (Vocus) April 5, 2010
DPSBanners.com has expanded their line of graduation banners to include more designs and sizes. The graduation banners range from personalization for one person all the way to personalizing a graduating class.
As with all customizable pre designed banner sign templates, a person can add specific text such as the school or persons name, the graduation date and year as well as the option to add a picture of the person graduating or of the school mascot. The graduation banners include a full color design and printing that allows for greater visibility and added excitement to the event showcasing school colors.
With graduations just around the corner for high school and college students, DPS has marked down the existing and expanded graduation banners inventory. Prices for graduation banners start as low as $44.00 and discounts on these banners will be even greater if the banners are ordered in bulk. This gives schools a wonderful opportunity to show pride in their graduating class by creating banners to hang inside and outside the school. Orders over $150.00 receive free shipping and for larger volume orders, please contact http://www.dpsbanners.com.
In addition to the expansion, those ordering graduation banners or signs can also choose to upload a customized image. This option offers a fully customized banner which can include any custom design you choose to have placed on the banner. Each banner, whether pre-designed or custom, includes a weather resistant 13oz. vinyl material, hem and grommets.
A few more ways schools can get involved with graduation banners is through affiliate linking. If a school would like to promote dpsbanners.com services to their students, faculty and parents, DPS will donate 5-10% of the total sales to the school. In addition, schools can also choose to place an affiliate link on their website. This allows schools to earn revenue off sales referred to DPS by people clicking the affiliate link from the school website. Signing up for an affiliate account is easy; create an account and place the affiliate link on the website. DPS has provided step by step instructions on how to place a link on your site to DPS.
DPSbanners.com also allows schools to create custom banners where they can forward their students, parents and other interested parties to purchase them through DPSbanners.com. This is a great way for schools to earn money while providing students what they are looking for.
The choices are not just limited to banners; DPS also offers signs, banner stands, posters, foam board signs and displays for graduation and all events throughout the year.
For additional information and details on specific selections, please visit http://www.dpsbanners.com.
About Digital Pre-Press Services, Inc.:
Founded in 1996, Digital Pre-Press Services is visible online at DPSBanners.com. The company, located in Glendale, California, provides simple, affordable and professionally designed banners that can be personalized and customized exclusively online. Through the site, DPS has a wide array of products including banner stands, window clings, car magnets, retractable banner stands, sidewalk signs, pre-designed banners and more.
Contact:
Digital Pre-Press Services, Inc.
Toll Free (888) 790-2665
Local (818) 240-2004
Fax (818) 240-3456
http://www.dpsbanners.com
###