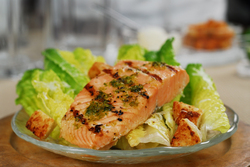 Seattle, WA (PRWEB) April 2, 2010
As the nation quickly tunes in to America's need for better eating habits – fueled by revolutionary TV shows and White House campaigns – Dream Dinners, Inc. today announced the launch of a special promotion to help easily and affordably get families on their way to healthier lifestyles. They do it by taking the key stresses out of meal planning.
You don't have to be a celebrity chef to be a smart cook. Starting today, through April 30, 2010, Dream Dinners, the leading meal assembly chain in the United States, is offering a special introductory trial rate for 36 individual servings plus a seventh family dinner and dessert for free! The promotion aims to educate families on the ease of learning good cooking habits by assembling fresh, raw, portion controlled ingredients – with Dream Dinners families can make a month's worth of meals in minutes! With 126 Dream Dinners stores nationwide, the TV and White House goal of creating a food revolution in America now gains momentum at a grassroots level with accessible help.
"Dream Dinners began as a way to save busy parents time in the kitchen, while still being be able to put a feel-good, home cooked meal on the table and gather the family around," said Dream Dinners co-founder Stephanie Allen, who helped pioneer the "fix and freeze" retail concept in 2002. "However, the landscape has changed. There is a childhood obesity epidemic and diabetes is skyrocketing. Eating healthier is easier said than done, and it is crucial families have the tools to set them up for success. At Dream Dinners, we want to help. Our special offer invites people to give meal assembly a try, and they'll see just how easy it can be to make quick, healthy dinners and manage portion control."
The Dream Dinners service works by providing a monthly selection of 15-18 main dish recipes, available in both three-serving and six-serving sizes. Guests choose among the meal options according to their preferences, schedule a session time, then prepare all at once – taking only about an hour. All ingredients are gathered and pre-prepped by Dream Dinners, so guests simply assemble and take meals home to freeze. Wherever possible, low and no-fat ingredient options are used in the recipes, and calories typically range from 140-350 per serving, dramatically lower than most other "convenience" options such as fast food and take-out. All serving sizes are also measured and portion controlled.
"Dream Dinners was literally a life saver for me when I was battling my weight," said longtime Dream Dinners guest Kara-Lee House, who is proudly featured in a national Dream Dinners ad campaign that backs the special trial offer. "I needed a way to eat healthier, but didn't have the energy or desire to start cooking everything from scratch and sacrificing flavor – that was overwhelming. With Dream Dinners, all the meal planning and prep was done for me so I didn't have to stress about it, plus all my dinners were portioned controlled. I ate Dream Dinners meals seven nights a week, supplementing with other healthy options, and went from 311 pounds to 138!"
In addition to providing families more healthy dinner options, Dream Dinners is also an affordable approach, with the average serving costing just $4.25 – and with the special introductory offer it's just $2.91 per serving! The promotion includes six six-serving dinners, plus a free seventh dinner and dessert, for just $139.95. Plus, there is no "unused" grocery waste for the home cook, which experts say can be nearly 30% of groceries every week!
For more information on the Dream Dinners service and the promotional offer, and to find locations, visit http://www.dreamdinners.com.
ABOUT DREAM DINNERS
Founded in 2002, Dream Dinners, Inc. is the recognized originator of the $170 billion meal assembly industry. Headquartered in Snohomish, Wash., Dream Dinners locations provide guests' monthly menus to select from, then procure and prepare all ingredients in advance, so guests can assemble dozens of meals in about an hour, then take home to freeze. With more than 126 franchises in 30 states, Dream Dinners saves its guests both valuable time and money, and focuses on bringing families back to the dinner table with healthful, delicious and easy-to-fix meals. http://www.dreamdinners.com
###