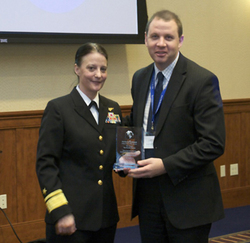 iWebGate's technology forever transforms the landscape of networks - how they communicate and what they can safely do!
(PRWEB) April 3, 2010
Powerfully, iWebGate has integrated all network services required to invent a "Ghost Network Platform" (GNP). The GNP easily resides in a Demilitarized Zone (DMZ).
Adhering to the principle of separation, the GNP moves an organization's point of interaction with the Internet away from the trusted network and into the DMZ.
"Self-built DMZ solutions are often very expensive and technically difficult to setup and maintain. Our commercial and government off the shelf solution enables any small, medium and large enterprise to establish an affordable, scalable and valuable DMZ solution in less than 20 minutes," said Timothy Gooch, CEO of iWebGate.
The company provides a DMZ solution as a platform for the needs their customers repeatedly asked for.

How can we securely connect everyone we work with (i.e. our customers, suppliers, contractors and employees)?
Can we do more things in our business quicker, easier and greener with lower cost?
During an extensive research and development project, iWebGate looked at many network products and setups. They noticed some universal characteristics which continue to cause widespread problems.
The first is many small to mid-size enterprises (SMEs) (and some larger entities) do not adhere to the "principle of separation" when it comes to establishing a connection between their trusted network and the Internet. Many SMEs believe network security stops at the perimeter firewall by innocently opening and linking ports directly to business servers residing on their trusted network. This setup resembles a corporate office removing its reception area and allowing anyone to walk in off the street straight into their boardroom, document storage areas and private offices.
Secondly, many firewall and gateway technologies work with old generation VPN technologies (i.e. SSL, IPsec). Many users constantly complain their VPN services are complicated to establish, cannot connect, are too slow or keep dropping out. Also alarmingly, these outdated VPN services are a form of remote access which extends the surface attack area of the network and therefore increases the risk of catastrophic outcomes if ill-configured or breached.
Thirdly, most network administrators have a tough time protecting the resources residing on their private networks from users located in other networks. Networks are frequently implemented with a single perimeter and not too much consideration for mobility which can be a major barrier to productivity and work processes which work much better when integrated and agile. Also adopting a conservative and outdated networking approach that struggles to keep up with current demands is guaranteed to weaken network security policies and stifle business growth and profitability.
"We now live in a borderless world where organizations have to interconnect to optimize performance. Networking needs to be like mercury – very fluid and able to change its surface areas to reflect any parameters it has to work around. Networks need to be used with agility to get more value from fewer resources," said Kim Mettam, Director of Business for iWebGate.
The most logical spot to establish a new and "interactive" network is within a DMZ. The United States Department of Homeland Security recommends as best practice the use of this principle with its DMZ recommendations.
A recent budget item by the United States Department of Defence illustrates together with the above US Department of Homeland Security recommendation on best practice, the challenges, technical complexities and expenses associated with the setup and maintenance of DMZ solutions.
iWebGate has resolved these problems by creating an affordable, all-encompassing and scalable solution termed a "DMZ in a Box". Valuable for entities of any size.
The "DMZ in a Box" software is either available in a pre-configured, ready-to-go network appliance or it can be downloaded and installed on the hardware of your choice. Either way, customers can establish a scalable DMZ solution in less than 20 minutes.
Every network connected to the Internet requires a DMZ regardless if the organization relies on client-server setups, virtualization environments and/or cloud infrastructure. A vital layer of security for virtualization is also provided with the release of a VMware software version.
"Innovation is only relevant if it creates value for customers. Our diverse and rapidly expanding lists of customers are the ones determining the worth of iWebGate's innovation", said Andrew Sutherland, Director of Sales and Marketing for iWebGate (UK Region).
In addition to a much needed layer of security, customers are able to:
1. Say goodbye to business sapping VPN services
Customers find their new alternative to VPN much simpler, more reliable and significantly faster.
2. Establish private cloud solutions
Profession service firms (e.g. accounting and legal practices) are now providing private cloud reporting services for customers and their customers
3. Create "private internets" off public infrastructure
iWebGate's VLAN over multi peer-to-peer (VLAN/MP2P) technology can connect two or more peers at a pseudo-layer 2 level allowing any legacy network aware software to communicate using P2P technology without the need to re-write a single line of code. Entire networks or parts of networks can now mesh up with remote and disparate networks within seconds - with no additional hardware required.
About iWebGate
The origin of iWebGate's groundbreaking yet simple DMZ technology come from the universal networking problems accentuated in the world's most isolated city. Today the company presents great value and wonderful business opportunities in the form of joint ventures, coproduction agreements, cross distribution arrangements and technology licensing. As mentioned earlier iWebGate has just won an award for "Most Innovative Products & Services" at the 2010 Security Network Summit - San Diego and is looking at expanding a presence in major markets.
###