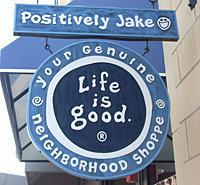 "We're in much better shape than early 2009, so as business picks up, we're better positioned for success than we've ever been."
Denver, CO (PRWEB) April 2, 2010
Positively Jake will celebrate its three-year anniversary this May, marking a significant milestone for this locally owned Life is good® Genuine Neighborhood Shoppe. The only retail store in the Denver market and only one of two in the state carrying the entire line of Life is good® products, it has been a beacon of light in the community and with its loyal customers and enthusiastic Life is good fans. A little more than a year ago, however, owners Kara and John Bohannon weren't sure they'd still be in business today.
"It was like someone flipped a switch the last week of August, 2008," said Kara Bohannon, who manages the daily operation of the business. "One day we were tracking our growth month-to-month, and the next we were trying to figure out what we were going to do with all the merchandise sitting in our store, not selling."
What they did was sell a large percentage of their inventory at clearance prices, resulting in a huge hit to their bottom line. "I just wish I knew then what I know now—about buying, staffing, about timing expenses," continues Bohannon. "But we're in much better shape than early 2009, so as business picks up, we're better positioned for success than we've ever been."
With products boasting words of optimism such as "Do what you like, like what you do."® and "We shall never know all the good a simple smile can do.", the store has become a favorite for many Coloradans who are new fans of the product line as well as those who have been followers for years of the Life is good brand. Many collect the famous Life is good t-shirts and caps, and most can find the perfect item for just about everyone on their gift lists.
In February 2009, the Bohannons launched their e-commerce website, store.positivelyjake.com, fulfilling web orders from across the U.S. out of their local retail store, providing an additional revenue stream for their business.
"Customers often ask us how our business is faring and to please not close down," said Bohannon. "We've all seen stores and restaurants, both local and national, go away. We don't intend to be one of them. We're both grateful and excited to be celebrating three years in business."
Positively Jake is a Life is good Genuine Neighborhood Shoppe located in the Belmar Shopping District in Lakewood, Colorado, which will celebrate its 3-year anniversary on Saturday, May 15, 2010 with an in-store celebration. For more information, go to positivelyjake.com or call 303-934-2555.
###