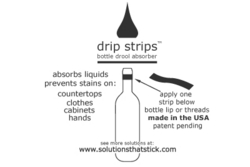 Drip Strips stick to bottles (wine, soy sauce, balsamic, olive oil) and work like a charm to keep tablecloths and counters pristine.
Irvine, CA (PRWEB) April 27, 2010
We've all heard that it's in the wrist. We've been told to keep wine bottles from dripping by twisting the bottle to stop the dreaded drip from drooling down and ruining the pristine white tablecloth. And some of our attempts have even been successful. But on the second or third glass, not so much.
Enter Drip Strips, adhesive felt strips that absorb the drips before they work their way down the bottle. Just stick one strip below the bottle lip, and the table stays clean all the way through the bottle. And the second bottle. The wine accessory also works like a charm on soy sauce, balsamic vinegar, olive oil bottles and more to keep kitchen counters and tablecloths clean no matter what the liquid.
Each bottle-drool-absorbing strip is 1/2" by 4 1/2" long and is engineered to catch that last drip and keep it from ruining countertops and tablecloths. At just $3.95 for a pack of 12 Drip Strips, there is no need to scrub out bottle rings ever again, or incur extra cleaning fees on rental linens. Drip Strips also make a great hostess gift or birthday present for the wine lover. The product is available at solutionsthatstick.com
About Solutions That Stick Inc.:
Irvine-based, Solutions That Stick Inc. (fka The Pond Inc.) is an all-women company that develops, manufactures and markets the Garment Guard™ line of products. The industry leader for over ten years, Garment Guard is the original disposable underarm shield. Newer additions to the line are: Knicker Sticker™ disposable adhesive underwear; Skid Out™ deodorant, drip and drool erasers; Subtle Butt™ disposable gas neutralizers; White Collar Grime™ disposable collar and hat protectors, Quick Fix Sticks™ adhesive wardrobe remedies; Boot Stay™ adhesive sag preventers; and Pocksie™ temporary sticky pockets.
###