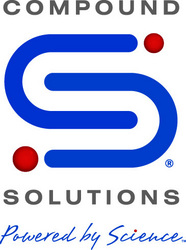 worldwide confidence in analytical results
Escondido, CA (Vocus) April 1, 2010
CEO of nutritional ingredient supplier Compound Solutions, Barry Titlow, was elected to AOAC's board of directors, which develops global consensus for analytical methods throughout the world. AOAC taps leaders in a variety of analytical communities to sit on its board for their expertise and experience.
"I am honored to be elected to this board of outstanding committed global leaders. The very foundation for measuring quality and efficacy is built from robust analytical methodology. Under the guidance of AOAC International, commercial, governmental and academic organizations can develop analytical methods that have global acceptance," said Titlow.
AOAC was founded in 1884, the globally recognized, not-for-profit's goal is to reach "worldwide confidence in analytical results" with clearly documented methods and a science-based Official Methods of Analysis. AOAC has 3,200 members from 90 different countries, and is comprised of chemists, microbiologists, laboratory managers and statisticians. AOAC works closely with the world's governments, industries and private sectors to establish standards. They've worked closely with the U.S. Food and Drug Administration, U.S. Department of Homeland Security, U.S. Department of Defense, U.S Department of Agriculture-Food Safety and Inspection Service, U.S. Environmental Protection Agency, National Institute of Standards and Technology and public companies such as PepsiCo, makers of Pepsi-Cola and The Coca-Cola Company, makers of Coca-Cola.
Barry Titlow is a chemist with 38 years experience in the nutritional supplement industry. He is CEO of two companies: Compound Solutions and Fluid Essentials. Titlow also is a member of Drug, Chemical and Associated Technologies (DCAT), Institute of Food Technologists (IFT), and Society of Cosmetic Chemists (SCC).
About Compound Solutions, Inc.
Compound Solutions is a science-based ingredient supplier and product developer for food, pharmaceutical, cosmeceutical, nutraceutical, and sports companies. From sports nutrition, personal care and nutritional supplements to infant formulas, food, beverages and pharmaceuticals, we work with the world's top companies on amino acids, vitamins, botanicals, CoQ10 and specialty actives. Barry Titlow founded the Southern-California based company in 1998. He has more than three decades of experience in the highly competitive nutritional supplement industry. Barry Titlow is the first person from the nutraceutical industry to be on the board of directors of AOAC, the oldest and most prestigious analytical organization in the world. Compound Solutions' website is compoundsolutions.com.
# # #