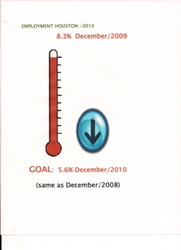 Reduce Houston's unemployment from 8.3% to 5.6% by the end of 2010
Houston, TX (PRWEB) April 21, 2010
Houston Job Opportunities website announced today the launch of a new, free, central site for Job Seekers to apply for open positions in Houston, TX or job openings with companies owned by Houston, TX based companies. This website also provides Recruiters, and Companies an opportunity to post multiple job openings in Houston with no upfront fees. With a free service for both job seekers and job posting companies to use, Houston Job Opportunities offers an economical way for individuals and companies to successfully connect in this challenging economic environment.
Employment Houston-2010 is a group of companies and citizens dedicated to helping job seekers in Houston find a job and add to the economic growth of the area. With the support of individuals and companies, it is hoped that Employment Houston 2010 will reach it's goal. Employment Houston-2010's goal is to reverse Houston's unemployment rate from the 8.3% in Dec./2009 back to 5.6% by the end of 2010. The 5.6% is what the unemployment rate was in Houston in Dec./2008,
The on-line service is contingency-based and no fees are paid by job posting companies until a placement is made. Job Seekers can post their resume at no charge. All costs are paid by the hiring company and/or recruiting agency with a job to fill. There are also specific links to assist the applicant to find a job in his or her field. The site has free professional resume tips, free interview tips, cover letter assistance and general job related information along with tips to help with the re-direction of career paths for today's job seekers.
Because of the economic situation and the changes in how business is done today, special emphasis is given to the changes necessary to help job seekers adapt to a Job Search in 2010. Houston Employment-2010 is also providing a $50.00 American Express Gift card to all job applicants who find employment through the job board's website. It is hoped that the $50.00 will be spent in the Houston, TX area, which will add to Houston's economic growth.
Houston Job Opportunities Job Board provides any company with a current job opening to fill, the opportunity to advertise job openings at no cost unless a candidate referred through the website is hired. Therefore, multiple postings of jobs become extremely economical for companies and agencies.
About HoustonJobOpportunities.com:
The creation of a 25 year veteran personnel recruiter from the Houston area, to bring Job Seekers, Companies hiring and professional recruiters together in a single location.
Contact: Houston Job Opportunities
Phone: 1-888-345-1762
Website: http://www.houstonjobopportunities.com
Email: info(at)houstonjobopportunities(dot)com
# # #