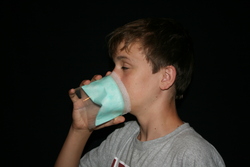 We were just lucky that it was a simple cold virus. It could have been the flu, or TB, or even SARS.
Nashville, Tennessee (PRWEB) April 28, 2010
Today a Nashville, Tennessee physician released details about a new exciting product to hit the market. Dr. John Macey, Jr. described his new medical apparatus called CoughCatcher®. According to Dr. Macey, CoughCatcher is a very simple device which might radically change the way doctors advise patients with a contagious respiratory infection. According to Dr. Macey, the CDC (Center for Disease Control) currently recommends that people who have an infectious cough use a tissue to cover their coughs or sneezes. After each cough or sneeze, one should then discard the tissue and wash one's hands or use alcohol hand sanitizer. (WOW - what a pain!) The problem, according to Macey, is that tissues are so flimsy and coughs and sneezes are so powerful, that the hands get contaminated with germs (bacteria or viruses) in the respiratory secretions. Much of the spread of respiratory diseases comes from hand contamination, as well as airborne droplets from the cough or sneeze containing the germs.
"People just aren't able to follow the CDC recommendations because it isn't always feasible. I mean, who stands next to a sink and waste basket all day? Especially in some environments, like on an airplane flight," says Macey, "there is just no way to follow those recommendations!"
The idea for CoughCatcher actually came to Dr. Macey when his family was on a flight across the country. The little girl behind them coughed the whole flight and the next day all the Maceys had contracted her illness. "It would have been so easy if the flight attendant had handed the little girl a CoughCatcher and asked her to cough into this simple device. We were just lucky that it was a simple cold virus. It could have been the flu, or TB, or even SARS."
Dr. Macey spent three years developing the device after going through several design changes. The final version of CoughCatcher is a flat clear plastic sheathe with a soft foam rim. When the flat sheathe is squeezed to open, inside there is a filter much like a surgical mask.
"The idea is that you pull the CoughCatcher out of your pocket, purse or from between the pages of a book when you have the urge to cough or sneeze, just as you would a handkerchief. You squeeze it open and place the foam rim over the mouth and nose then cough (or sneeze.) The difference is, when you cough into the CoughCatcher, the germs are caught in the filter INSIDE the protective sheathe. Your hands and pocket are not contaminated by a slimy handkerchief or tissue. You can pull out the CoughCatcher to use over and over. It could last all day or longer, but should be discarded when secretions are especially heavy."
Macey said initial stocks of CoughCatcher are in a Nashville warehouse now. They are available online in boxes of 25 through the website http://www.coughcatcher.com.
# # #