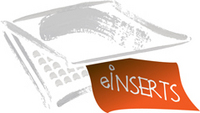 "Timing is the key. eInserts are delivered to prospects when they are actively looking for information making them much more likely to be receptive to your message."
Austin, TX (PRWEB) April 2, 2010
eInserts are the digital equivalent of those ubiquitous card inserts found in many magazines. "Inserts are a 90 year old concept that's still around because it still works." says Victoria Park, VP Sales at eInserts.net.
eInserts' network of professional book sites rank highly on search engines. For example searching on Google for the term 'computer books', returns 148 million hits including Amazon.com in second spot. Ranked in first place though is an eInsert website called Computer-Books.us. This kind of visibility gives eInserts an unmatched ability to deliver their clients' message to the right audience.
Thousands of professionals use eInsert sites every day to download books and training courses. Marketing materials such as whitepapers, webinars, jobs lists, book promotions and product announcements are packaged as eInserts and sent along with the training materials.
"The total cost of sending an email message is a lot more than many people realize," says Park. "Rental of a typical B2B technology list costs around $0.40 per sent email and even with a brand name opt-in list, you can only expect an open rate of between 10-25%. So the real, eyeball cost of your message is more like $1.60 per read message." Park goes on to add. "Email is a push technology while eInserts on the other hand are pulled or actively downloaded by qualified prospects. So we have a much higher open rate, close to 80%. All of which translates into a much lower cost per read message."
Park sums it up by saying "Timing is the key. eInserts are delivered to prospects when they are actively looking for information making them much more likely to be receptive to your message."
###